Nine Things Your Payout Provider Won't Tell You But Should.
Sending payouts across international borders? Always a major challenge. These transactions are routinely expensive, practically impossible to track, and lack the transparency and optionality that payees demand. Worst still, most legacy cross-border transfer options take days to arrive, often leaving payees in a pinch.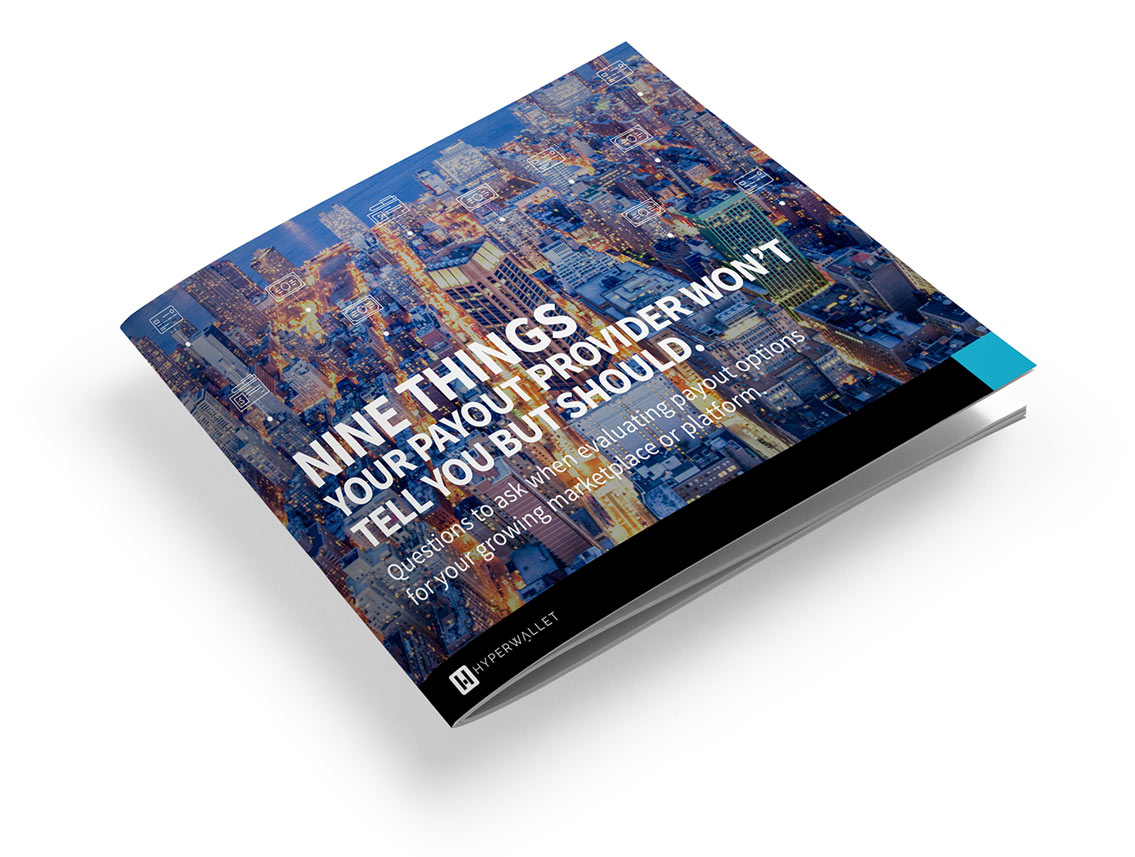 These problems are simply not OK in today's global economy. Workers, resellers, suppliers and freelancers not only need to be paid in a manner that's fast and convenient—they've grown to expect it. One size definitely does not fit all when it comes to cross-border payments in today's increasingly global marketplace. Are you sure your payout provider has what it takes to keep you competitive?

Check out our eBook "9 Things Your Payout Provider Won't Tell You But Should" where we explore these important questions:
1) Can our payees choose how they want to get paid (and in what currency)?
Most payout providers only offer one or two payment types: prepaid debit card or bank deposit. So, payees who choose the prepaid card option must typically keep their card balance in USD currency, which ends up being costly when it comes to conversion.

Hyperwallet Solution: Hyperwallet gives payees complete control over their earnings through payment optionality. And Since Hyperwallet supports all major currencies, payees are never limited to USD currency or minimum transaction values. The results? Significant time and costs savings for your payees.
2) Will our payees have to register for a third party account?
Most providers require payees to self-enroll into a third-party account. This process forces them to a third-party website, where they're locked into an agreement with the payout provider.

Hyperwallet Solution: Hyperwallet gives you complete control over payee account creation and management—no third-party relationships required. In fact, Hyperwallet gives you the option of white-labeling all payout-related communications, so your payees never have to know that their account is hosted by Hyperwallet.
3) Can I control and configure the payout experience?
Most payout providers won't allow you to integrate their technology and services into your website or mobile app. This restricts the amount of branding customization and influence you can have on the end-user experience.

Hyperwallet Solution Hyperwallet gives you total ownership over the payout experience. Clients can choose to either embed our payment technology within their corporate website or integrate our capabilities into their native apps.