Unlock Global Ecommerce with Payment Routing Accounts
Here's a common scenario from the world of ecommerce: you run a fast-growth U.S. marketplace. Your two-sided ecommerce platform provides sellers with an engaged consumer base. Business is booming and you're looking to attract more sellers to join your community. Currently, your marketplace requires sellers to have a domestic bank account in order to accept payments for their goods. There's just one thing: a big part of your growth plan requires attracting and retaining international sellers on your marketplace, the vast majority of which won't have access to US bank account.
Looks like payments just become a major problem for your platform.
Lucky for you, it's a relatively common problem, and one we've seen time and time again here at Hyperwallet. Which got us thinking: why not create a funding method that will help our marketplace clients easily manage cross-border payouts?
Which leads me to announce the introduction of our new payment routing accounts.
Made possible through our financial network partnerships, this new feature makes it easy for non-domestic sellers to register for a proxy bank account (the payment routing account) in another, corporate-specified, country. Payments sent to this proxy account are then routed to the seller (or payee's) Hyperwallet account, where they can then transfer the funds out to their existing local bank account in local currency.
How Payment Routing Accounts Work
The process is simple: first, a payee completes their Hyperwallet account registration and chooses to add their local bank account as a new transfer method in the Pay Portal. The payee then provides the necessary information by following the steps onscreen. Once they've successfully added their bank account to the Pay Portal, Hyperwallet automatically gives them the banking details for their local settlement account—now, all the seller has to do is input this account information into your ecommerce platform. Payments that are sent to this account are automatically routed to the corresponding Pay Portal account, where the payee can then automatically transfer to their local bank account in their local currency.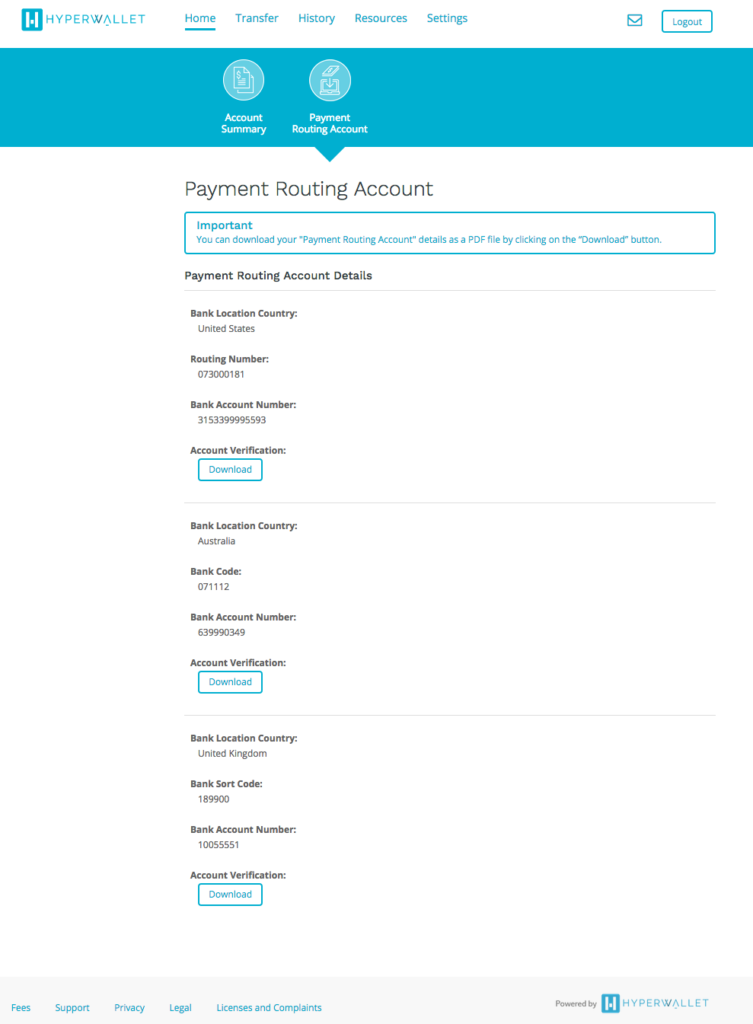 Currently, payment routing accounts are available in USD, AUD, EUR, and GBP, with CAD, JPY, and MXN coming soon. For more information on Hyperwallet's payment routing accounts, please contact your Account Manager.
Not on the Hyperwallet platform yet? Contact a Solution Expert today to learn more.
Hyperwallet Payouts