Venmo as a Transfer Method
Venmo is a digital wallet that lets people send and split payments with friends and family, as well as shop. You can easily split the bill, cab fare, and much more. Venmo is also social at its core: the newsfeed allows people to share a simple payment note or an emoji to remind their friends of the great experience they had, and even extends those memories with inside jokes. Venmo's highly engaged users can pay with Venmo at millions of online retailers, in popular mobile apps like Uber, Fandango and Grubhub, and everywhere Mastercard® is accepted in the US with the Venmo debit card. Click here to learn more about the Venmo application.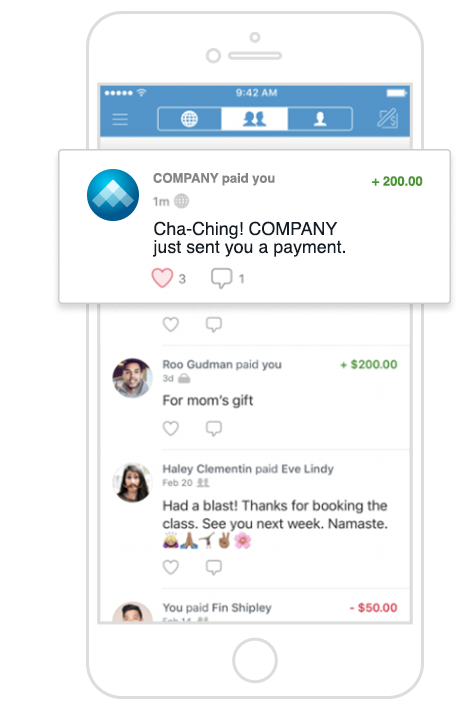 Become a Part of the Conversation
Why offer Venmo as a payout option to your payees? Venmo is loved by millennials for its simplicity and ease-of-use. More and more, this generation is turning to new ways to reduce friction, awkwardness or cumbersome-ness of available financial services. As one of the leading payment apps with over 40 million active users – equating to half of millennials in the US – Venmo is much larger than just a peer-to-peer payments platform. Venmo is poised to become one of Hyperwallet's most popular payout methods. Available for US-based enterprises and marketplaces, the Venmo transfer method lets you showcase your brand on the Venmo social feed.
Offer Venmo As a Transfer Method to Your Payees
If your Hyperwallet payout model features a Pay Portal Payee Experience, Venmo will appear as a payout option on the Transfer Center screen. Once a payee has completed the transfer method setup, they can easily initiate a transfer to their Venmo account by entering the amount and inputting their US mobile phone number. Check out the explainer video below for more details.
Venmo can also be offered as part of an Embedded Payee Experience using Hyperwallet's Transfer Method Drop-in UI or REST API. Check out Hyperwallet's Venmo transfer method documentation to learn more about this payout option.
In order to be able to use Venmo as a transfer method, payees must have a US mobile number and an active US Venmo user account. If payees do not have a Venmo account, they will be prompted to create an account as part of the transfer process.
Provide your US payees with this popular, digital payout option. Contact a Hyperwallet Payout Solution Expert today for more information and pricing details.
Hyperwallet Payouts