4 Reasons Direct Selling (Still) Needs to Go Mobile
TL;DR
Are we mobile yet? Learn how mobile technology can improve training, boost sales actions, increase conversions, and simplify commissions.
Has the mobile revolution come to an end?
Some observers say that it has. After climbing sharply through the late 2000s to present, smartphone adoption growth is beginning to slow, especially in developed countries. More than 90% of Americans now own a mobile phone, and over 42% own a tablet. For the first time since it first launched in 2007, iPhone sales have declined in 2016. And while it's true that the number of mobile users will continue to grow for years to come, mobile is old news. Companies in all sectors—but in direct selling especially—have embraced mobile technology and applied it to the full extent of its capabilities.
… Right?
Is the mobile revolution over? Not in #directselling.
Click To Tweet
Eh, maybe not. We've been talking about mobile for a long time in the direct selling industry, but some companies have taken it more seriously than others. While the DSA's 2016 Web Presence and Technology Systems Survey found that 78% of companies allow their independent representatives to place and complete orders entirely on mobile platforms, far fewer companies have adopted tools that fundamentally improve the direct selling experience for distributors. Sure, mobile ordering is a great start—how else can you use mobile to drive success in your sales force?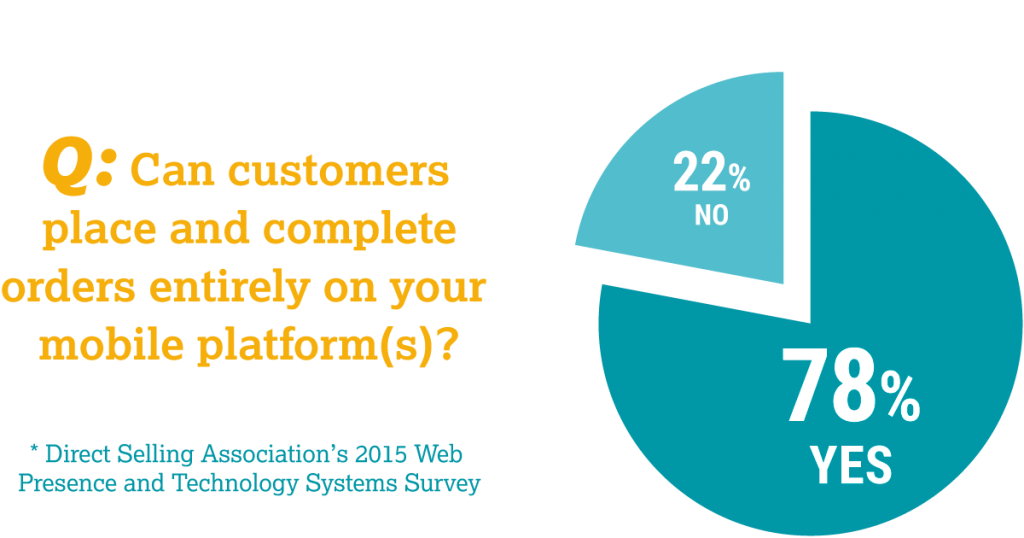 For the direct selling industry, I'd wager the mobile revolution has just begun.
What Can Mobile Do For You?
Why should your direct selling organization devote valuable resources to expanding your mobile presence? Aside from the extensive evidence showing that Millennials place tremendous value on flexibility and technology in their work (a Microsoft survey found that 93% of Millennials said workplace technology was 'important' during job selection, with 48% ranking it 'extremely important'), mobility can have a significant impact on the efficiency of your existing distributors. Here are four compelling reasons for your company to prioritize mobile:
#1 – Improve Training
Traditional training methods—holding in-person education sessions, distributing printed training materials—have always been inconvenient for direct selling companies and their distributors. Beyond that, these training methods may be less effective than we think: most distributors only spend a handful of hours on their independent business each week, making lengthy dense training seminars or booklets impractical. In this digital era, training materials need to be available in easily-digestible snippets, accessible where and when a distributor wants them.
For that reason, mobile apps provide an ideal way for companies to distribute training materials to their independent sales force. Mobile training materials allow organizations to:
Give their distributor anytime, on-the-go access to training materials.
Quickly and simultaneously push new training content to the entire sales force.
Reduce the expense of training by reducing or eliminating the need for physical training materials and in-person seminars.
93% of Millennials say they prefer to work for companies that embrace technology. #directselling
Click To Tweet
#2 – Boost Sales Actions
As we noted above, not everyone in your sales force is a full-time direct seller. Many distributors have other obligations that keep them from spending as much time on their independent business as they'd like. With all the things going on in their lives, it's not surprising that they might occasionally lose touch with a customer or prospect.
Mobile apps can help keep your distributors from letting those opportunities fall through the cracks. Companies can configure their mobile apps to send notifications reminding distributors to follow up with prospects after a certain period without communication, or to review contact history with customers and send prewritten text messages to see if they're ready for another order. Taken together, all of these additional minor actions can have a direct impact on your bottom line, with the added benefit of keeping distributors engaged.
#3 – Increase Conversions
Think about the value that mobile technology offers distributors during the sales process. The benefits of having on-the-go access to real-time information from the corporate office cannot be overstated. Distributors can flip through product catalogs with their customers, watch promotional videos, make purchases, and check order statuses—all from the same mobile device.
With this kind of mobile support, consultants who might have struggled through a sale suddenly have a wealth of resources to fall back on if they lose their way. Even seasoned distributors will have the added confidence of knowing that all the information they need is just a tap or swipe away. Ultimately, a mobile-augmented sales process can have a sizeable effect on your number of total conversions.
Mobile technology can improve training, sales, conversions, and commissions. #directselling
Click To Tweet
#4 – Simplify Commissions
Although distributors often rely on their commission payments to cover their autoship and other business expenses, they're rarely given much insight into (or control over) the commission process. That all changes with mobile technology. Direct selling organizations that have integrated with a top-tier commission payout platform can give their distributors control of their commission payments on-the-go through branded mobile apps or mobile-friendly payment portals. For example, with Hyperwallet's mobile commission app, distributors can:
Receive push notifications whenever they've been sent a commission payment.
Check their account balances and review their detailed transaction history.
Transfer funds between accounts and cash out funds to a bank account or card.
Direct selling organizations that want to keep the payout process in their own ecosystem can integrate their back-end systems with their payment provider, allowing them to pull payment functionality directly to their corporate app in real-time.
What's Next?
Direct selling has always been a mobile industry. Distributors are out in the field, chasing leads and engaging prospects. The sales team is widely dispersed, working where and when they can. Direct selling couldn't ask for a more fundamentally compatible technology, and there's no excuse for companies who have ignored its implications for the future of the industry. Mobile is here to stay, and if your company hasn't adopted it yet, you're missing out on a crucial opportunity for growth.
For more insights from the direct selling experts at Hyperwallet, be sure to check out our guide—Harnessing the Digital Revolution: 9 Questions for Direct Selling Companies in the New Economy.
Hyperwallet Payout Platform