How Jamberry Expanded Its Reach While Cutting Costs (Part Two)
TL;DR:
In part two of our interview series on Jamberry's commission solution, we explore some of the major benefits of switching to Hyperwallet.
At Hyperwallet's Customer Council Summit in 2016, Jeff Stephens, Jamberry's Director of International Finance, took some time to discuss the company's search for a new payout partner and explain how Hyperwallet ultimately equipped Jamberry to take its business to the next level. In this second part, Stephens explains how Hyperwallet helped Jamberry expand its global reach and reduce administrative costs.
You can read part one of this interview series here. 
A Partnership Begins
Although Jamberry spent considerable time researching outbound payment providers independently, the company relied heavily on recommendations from other industry insiders. "We were able to find Hyperwallet through another referral," Stephens recalled. Amongst the shortlisted providers Jamberry had spoken with, Hyperwallet stood out—and, following a quick implementation process, Hyperwallet set out to resolve the payout issues that Jamberry had been experiencing.
Learn how @JamberryNails penetrated new markets and drove card adoption with Hyperwallet.
Click To Tweet
One of Jamberry's foremost considerations had been global reach—the ability to help Jamberry rapidly enter new international markets. "As we were expanding to become more of a global company, we needed to be able to work in [multiple] currencies. People expect to be able to get paid with funds that they're able to use right away." Leaning heavily on Hyperwallet's global financial network and cross-border payment expertise, Jamberry would go on to deploy to Australia and New Zealand in 2015.
But Jamberry needed more than a network—it needed a partner to support the company as it grew. Hyperwallet's reputation for exceptional client support, then, made the provider particularly appealing to Jamberry. "[In Hyperwallet], we found a partner that's responsive, that will communicate with us, and—when we do have problems—is willing to work on a solution with us, as opposed to ignoring us or shoving us in the back corner. And that's been extremely helpful." Jamberry has easy access to its Hyperwallet account management team, allowing the company to express concerns and quickly address issues as they arise.
Reducing the Cost
Of course, cost was also a major factor for Jamberry. After the experience it had with its previous provider, the company was hesitant to enter into another expensive commission contract—but after taking a closer look, Jamberry was surprised to discover that the economics were in their favor. "With the cost of the portal and program itself," Stephens began, "when we really started comparing our previous [solution] to Hyperwallet and some other options out there, not only was Hyperwallet a better solution with more capabilities, it was also pretty close to 50 percent of the cost for Jamberry to run the program."
In searching for a new commission program, Jamberry was similarly adamant about removing the expensive manual processes in its commission solution, pushing the entire process to a third-party provider. Rather than focusing on building its business, Jamberry had been forced to commit resources to commission check distribution—a responsibility it was neither interested in nor well-equipped to handle. Additionally, check delivery proved to be a slow and inflexible payout method for Consultants. The company offered some other payment options, but all required administrative oversight from Jamberry. Switching to Hyperwallet and utilizing the platform's self-serve Pay Portal helped Jamberry alleviate both issues.
'People expect to be paid with funds they can use right away.' @JamberryNails
Click To Tweet
"Moving [the check delivery process] to Hyperwallet not only improved the time of the check getting to the Consultant, but also gave them more options [in how] they receive their funds," said Stephens, referring to the ability of Hyperwallet payees to choose their preferred payout method online. "That was very beneficial for us, and really saved us a decent amount of money just on temporary labor that we didn't need to call in." Jamberry estimates that eliminating the manual processes in their commission program saves the company between $3000 and $5000 every month.
---
In the final part of our interview series with Jamberry, we'll explore how the company used Hyperwallet's Loyalty add-on feature to quickly migrate payees to its new solution while simultaneously driving sales activity.
Read part three here.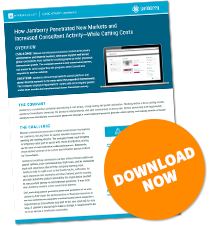 Download the Case Study
Want the full story on Jamberry's commission solution with Hyperwallet? You can download the complete Jamberry case study here.
Hyperwallet Payout Platform