Why BeneYOU Needed a New Commission Payout Solution for Jamberry (Part One)
TL;DR:
In the first of a three-part interview series on BeneYOU's commission solution for the Jamberry brand, we take a closer look at the pain points that kicked off the company's search for a new payout partner.
At Hyperwallet's Customer Council Summit in 2016, Jeff Stephens, (currently BeneYOU's Vice President of Finance), took some time to discuss the brand's search for a new payout partner and explain how Hyperwallet ultimately helped the Jamberry brand take its business o the next level. This first part of that interview explores the conditions that set BeneYOU on the hunt for its new solution and highlights some of the things the company was looking for in a commission provider.
Commission payments shouldn't be challenging. Check out our client case study on BeneYOU and @JamberryNails.
Click To Tweet
Searching for a Commission Payout Solution
Jamberry is a cosmetics brand that is owned by BeneYOU. The brand specializes in nail wraps, a long-lasting nail polish-alternative. The company was founded in 2010 by sisters Lyndsey Ekstrom, Christy Hepworth, and Keri Evans and found quick success in the US market, rapidly climbing the ranks of global direct selling leaders. Jamberry expanded its operations to include Canada in 2013, then hit a wall. The product was hugely popular—but with its existing commission payout infrastructure, Jamberry was hindered by unnecessary administrative difficulties and couldn't effectively expand its market reach.
Before partnering with Hyperwallet, BeneYOU was distributing Jamberry commission payments to its Independent Consultants through another outbound payment provider, in addition to cutting and mailing checks itself. "We were printing out thousands of checks every single month," explained Stephens, "bringing in temporary labor just to put those checks into envelopes, stamp them, and send them out. The cost for each check was actually pretty high."
'We were bringing in temporary labor just to send checks out.' @JamberryNails
Click To Tweet
BeneYOU didn't find the experience with their commission provider to be much better when it came to sending Jamberry commission payments. "We didn't have the support, the communication, the responsiveness that we needed from a partner in growing the company," Stephens lamented. Coupled with an unintuitive back-end experience and limited reporting features, BeneYOU concluded that the quality of the product simply didn't align with the cost.
Still, it was BeneYOU's ambitions to expand the Jamberry brand internationally that truly ignited the search for a new payout solution. Riding its successes in the United States and Canada, the company had set its sights on the South Pacific, with plans to expand into Australia and New Zealand as soon as possible. "At that point, we needed a solution that could be scaled with currencies, provide more options to our consultants, and really be a cleaner, more simple overall solution." In choosing a payout provider to facilitate this expansion, there was a clear list of must-haves: in-depth control of the payout process; extensive reporting features; local currency payment options; robust development tools and API optionality; great support and fast response times.
But despite BeneYOU's desire for a new Jamberry commission solution, changing payout providers presented problems of its own. "We didn't want—nor did we have the resources—to run the two programs simultaneously," Stephens noted. If Consultants were slow to adopt the new payment program, the brand might need to endure a lengthy period of essentially paying double for its commission process. "We needed to find a way that we could switch everybody over within about a three-month timespan."
---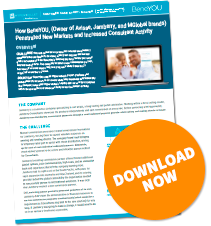 In the next part of our interview series with BeneYOU and Jamberry, we'll look at two of the major benefits that the company achieved by switching to Hyperwallet: expanded global reach and reduced administrative cost.
Read part two here, or skip to part three.
Download the Case Study
Want the full story on BeneYOU's new Jamberry commission payout solution with Hyperwallet? You can download the complete case study here.
Hyperwallet Payout Platform