ONEHOPE: Direct Sales Gives Back
TL;DR
ONEHOPE Wine encourages us to give back and tells us why corporate philanthropy is great for our direct selling businesses.
What makes direct sales great?
I'm asking seriously. What was it about this industry that attracted you in the first place?
Was it that direct selling gives people a chance to pursue their dreams on their own terms? Was it that they have the freedom and flexibility to make time for the important things in life—things like family, friends, and experiences? Was it the community, or the meaningful relationships that often emerge from it? What about the passion that we see people demonstrating for others every day?
A Passion For People
That last one is interesting. We know that direct sales companies pride themselves on being people-centric. It's about helping people get the most out of life, whether they're buying transformative products or earning independently. But it's more than that, right? It's also about having a positive impact on the world around us. Case in point: according to the WFDSA's 2009 report on corporate philanthropy, nearly three-quarters (72%) of direct selling companies around the world sponsor or support charitable activities, doling out an estimated $366 million in financial contributions. That's a lot of money, and it's something to be proud of. Keep in mind, though, that worldwide retail sales in the same year were roughly $113 billion. That means the that direct selling industry's total charitable donations for the year were equivalent to a little less than 0.3% of total sales.
See how @ONEHOPEWINE makes a difference, one bottle at a time
Click To Tweet
From Water Into Wine (And Back Into Water)
ONEHOPE Wine was founded in 2007 by a group of eight young entrepreneurs (all less than 25 years old) with a passion for wine and a desire to give back. The company, headed by CEO Jake Kloberdanz, launched with an inventory of just 168 cases, which they kept in a rented storage unit. The group sold wine with homemade labels out of the trunks of their cars, donating half of the profits from every sale to a charitable cause.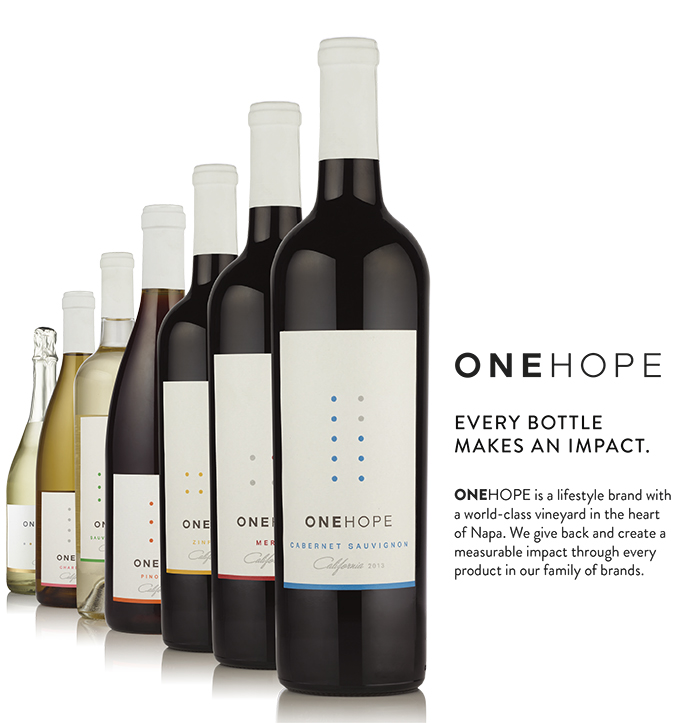 Tom Leahy, President of ONEHOPE Wine and one of the company's co-founders, points out that they hadn't originally intended to create a direct selling company. "ONEHOPE didn't start with a direct selling model," Tom remarks, "but it became very clear early on that wine and at-home tastings are a perfect fit. Wine is a very social product, and having a trained representative guide you through a tasting makes the experience that much better." So far, the decision to move into direct selling has paid off for ONEHOPE—in 2012, the company was ranked as one of the top 1000 fastest growing private businesses in America by Inc. magazine.
Of course, adopting a direct selling model was just one of many contributing factors in ONEHOPE's rapid rise. Having a great product certainly doesn't hurt, either: ONEHOPE's core varietals are produced in collaboration with Rob Mondavi Jr. and have won dozens of awards; their products have been featured in Forbes, US Weekly, and Wine Enthusiast magazines. But if you ask Tom, it all comes back to ONEHOPE's commitment to giving. "The most important aspect of our success," Tom says, "is continuing to communicate the daily impact ONEHOPE has on our community. We are proving every day that giving back is good for business."
Giving back is good for business at @ONEHOPEWINE
Click To Tweet
Just how good? In less than a decade, ONEHOPE has become one of the top 250 wineries by volume in the United States. Together with their Cause Entrepreneurs—or CEOs for short—the company sold more than 50,000 cases of wine last year. Depending on the type of wine (every varietal supports a different cause), each of those cases might provide 25 meals to hungry children through Why Hunger, or help plant six trees through Trees4Trees. In total, the ONEHOPE Foundation has given more than $1.5 million to their various partner nonprofits.
The ONEHOPE Foundation notes that Fortune 500 companies combined for roughly $12 trillion in revenue in 2013. ONEHOPE says that if just 1% of that money was donated, $122 billion could be used to plant one billion trees, give clean water to every person around the globe currently without it, feed every person without access to food for one year, and there would still be cash to spare.
The Dollar Vote
When it comes to philanthropy, ONEHOPE doesn't claim to be pioneering any new trend. Rather, ONEHOPE leadership asserts that they're responding to growing consumer desire for greater corporate social responsibility. "Giving back is increasingly becoming a necessity for business," says Melissa Lake, Executive Director of the ONEHOPE Foundation. "It's both the right thing to do and the smart thing to do. According to a 2015 study from Cone Communications, 90% of global consumers would like to see more responsible products and services offered from companies."
Other analysts have noted the shift, too. In their 2014 report, titled Doing Well By Doing Good, Nielsen revealed that more than half (55%) of global consumers will pay extra for products and services from companies committed to having a positive social and environmental impact. The same report states that roughly two-thirds (67%) of respondents would prefer to work for a socially responsible company. Right now, that desire is paying dividends for ONEHOPE. "We wholeheartedly believe that companies have the ability to affect societal change," Melissa adds, "and we think that customers will continue to vote with their dollars to support that."
A Bargain At Any Price
The takeaway for other direct selling companies? Corporate philanthropy pays, and in more ways than one. Demonstrating your commitment to a cause—whether it's curing breast cancer, providing health care in impoverished countries, or supplying clean water—through financial contributions gives deeper meaning both to your products and your opportunity. Customers will be happier buying from you when they know that a chunk of that purchase price is going to be used to help someone else. Distributors will be more inclined to join your company when they know that they're simultaneously supporting a worthy cause. Best of all, you'll know that what you're doing is making the world a better place.
And for 1%, that seems like a bargain.
Hyperwallet Payout Platform