Everything You Need to Know About PSD2
The Second Payment Services Directive (PSD2) is European payments legislation that comes into effect in January 2018. What will the new regulations mean for your two-sided marketplace?
What's Different About PSD2?
Under the original PSD, the activities of European ecommerce marketplaces were found to constitute 'payment services' due to the fact that the marketplace was acting as agent for both the buyer and seller in transactions conducted on their platforms. However, the European Commission exempted marketplaces from having to be licensed by the relevant national regulator with the inclusion of a 'commercial agent exemption.'
The introduction of PSD2 changes this. Regulators have amended the commercial agent exemption, stating that the commercial agent or marketplace can only be an agent of either the payer or payee—not both. All European Union member states are required to implement these rules as national law by the 2018 deadline.
What Does PSD2 Mean for You?
To continue providing services as they do today, marketplaces will need to do one of the following before the deadline: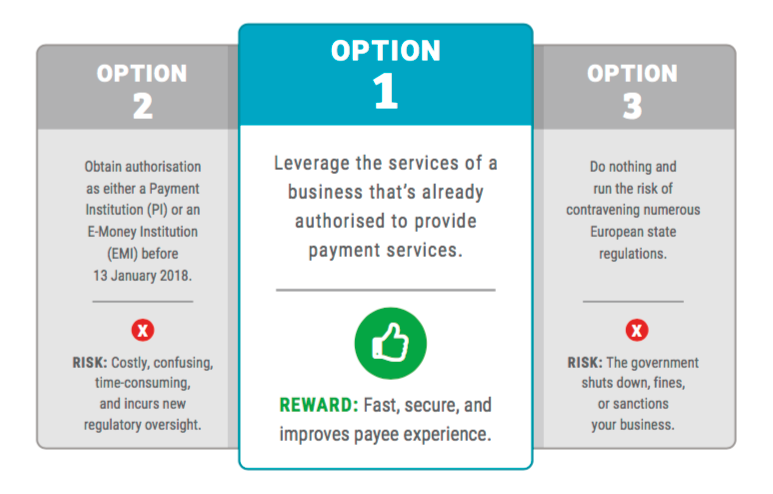 Nothing.
This is not ideal. Failure to comply could mean serious repercussions from European governments, include fines, sanctions, or outright termination.
Obtain authorization.
Marketplaces can obtain authorization as either a payment or e-money institution, but the process is notoriously costly, confusing, and time-consuming.
Partner with an authorized business.
By leveraging the services of a business that's already authorized to provide payment services, marketplaces can quickly and securely comply with PSD2 regulations.
Working with a payments partner has other benefits, too. With Hyperwallet, marketplaces won't just be able to utilize our authorization in Europe: they'll also be able to harness our global financial network to quickly scale into new markets; improve payout optionality through payee-directed transfer methods; enhance the payee experience with built-in payout management tools; streamline payee onboarding, and improve overall satisfaction.
Hyperwallet's global payout platform can be tailored to meet the unique needs of both your business and your payees. Get in touch with a Solution Expert to learn more about PSD2 and how our technology can help.
Hyperwallet Payout Platform