How Inefficient Payment Processes Impact Ecommerce Seller Loyalty
TL;DR
According to findings from The State of Ecommerce Selling in 2017 report, the speed at which marketplace platforms pay their sellers has a big impact on platform loyalty.
Last year, we at Hyperwallet released the findings of our Payday in America report. The results were derived from a survey of 2,000 American workers to uncover their opinions and preferences around payday. One of the major findings (as detailed in this blog post from the time) was that a delayed paycheck could have devastating consequences for the average W2 or 1099 worker: 50 percent would have to delay payment on important bills; 36 percent wouldn't be able to afford essentials like gas and groceries; 31 percent wouldn't even be able to pay their rent. From the results of that survey, we learned that most Americans are living paycheck-to-paycheck, and their margins of financial flexibility are razor-thin.
59% of sellers say speed of payments is what keeps them loyal to a marketplace platform.
Click To Tweet
It's not surprising, then, to learn that one of the biggest concerns for independent sellers on ecommerce platforms like eBay, Amazon, and Etsy is how quickly and conveniently they receive their earnings.
According to a new study from Hyperwallet titled The State of Ecommerce Marketplace Selling in 2017, one of the top reasons that sellers stay loyal to an ecommerce marketplace (at 59 percent) is the speed of payments. Moreover, roughly one in eight sellers (13 percent) have switched to another online marketplace due to frustrating payment processes, and four of five (79 percent) would change to a competitor if they felt that the fees they incurred for transacting were too costly. Bottom line: ecommerce marketplaces risk losing sellers if their payment processes are inefficient.

What Determines Seller Loyalty?
Payment speed, convenience, and cost aren't the only factors in determining marketplace loyalty, of course. Overall, the number of users or buyers on an ecommerce platform—which can have a significant impact on the total earning potential for sellers registered with a marketplace—is the most important consideration for sellers. Available shipping options and the sense of trust or security in a platform also play a role in seller loyalty. Additionally, the specific reasons that sellers remain loyal tend to vary from marketplace to marketplace.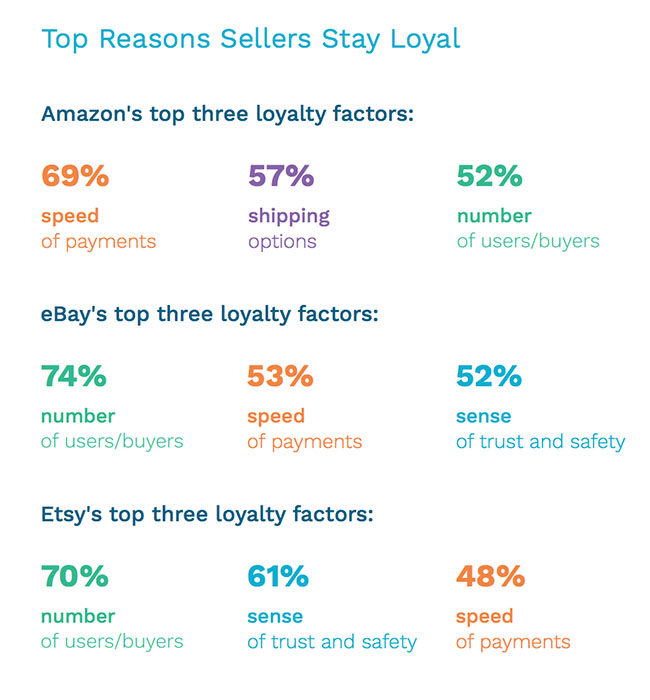 Still, the payment process is unique in its ability to impact other factors essential to platform loyalty. For example, the number of buyers on an ecommerce marketplace is determined, in large part, by the number of sellers and available products. If there are fewer sellers on the platform—say, because the payment process was perceived by sellers as too slow or complicated and they switched to a competing platform—we can also expect fewer buyers, further eroding overall loyalty to the marketplace. Similarly, if payments are frequently delayed or subjected to higher fees than anticipated, it will likely have an impact on the perceived trustworthiness of the platform.
53% of sellers want to receive payment directly after selling a product on a marketplace.
Click To Tweet
And that's not all. According to the Hyperwallet report, there is growing demand for real-time payments. Today, more than half (53 percent) of sellers want to receive payment every time they sell a product on a marketplace. Real-time payouts are difficult even under optimal circumstances and—as we illustrated in our last post—the challenges multiply when an ecommerce marketplace needs to send earnings across international borders. Meeting sellers' escalating expectations is only going to become more difficult over time.
Reevaluating Your Payout Process
As competition amongst platforms continues to grow, ecommerce marketplaces will need to do everything in their power to foster and maintain seller loyalty. In part, that means taking a closer look at their existing payment processes and looking for opportunities to increase speed, convenience, and affordability.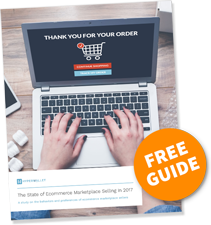 Hyperwallet's global payout platform enables ecommerce marketplaces to address many of those concerns. Our diverse range of payout methods—which includes instant delivery to prepaid cards and near-instant delivery to existing debit cards—allows sellers to choose how they receive their earnings. Through our global network of financial partners, Hyperwallet is able to alleviate many of the fees and delays associated with cross-border payouts. And with payment tracking and transaction history, payees have more insight into their payment process than ever before.
Download The State of Ecommerce Selling in 2017 report for more information.
Hyperwallet Payout Platform