Transforming Ecommerce Payouts at eTail Europe
Are you ready for the future or ecommerce payouts?
Hyperwallet's payments experts are coming together for eTail Europe, one of the continent's most insightful and productive networking events for ecommerce executives. We'll hear from some of the top thought leaders in the European ecommerce space while spreading our own message of faster and more convenient payouts for online sellers.
WHAT: eTail Europe
WHEN: June 20th-22nd, 2017
WHERE: Queen Elizabeth II Conference Centre, London, UK
BOOTH: A18
Our UK-based payments crew will be available both at the Hyperwallet booth and for one-on-one discussions. Feel free to reach out to myself, Aran Brown, Managing Director of Europe, or a member of my team on LinkedIn if you'd like to arrange a meeting.
Want to join us? Use the code below to receive a 25% discount when you register for the event.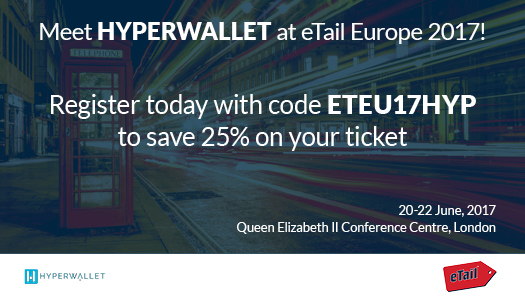 We hope to see you there!
Hyperwallet Payout Platform