How Mass Payouts Build Trust with Your Ecommerce Seller Community
TL;DR
Global payouts can have a big impact when it comes to building seller trust on your marketplace platform. More than a quarter (27 percent) of sellers don't trust the security of marketplaces' mass payment processes.
We talked a few weeks ago about the shift from selling in the pre-Internet world to the technology-infused era we find ourselves in now. For the most part, small merchants of the past had their earning potential limited by the opportunities within their immediate geographic reach. That changed at the dawn of the Information Age, when suddenly independent sellers could market and sell their wares online through ecommerce platforms like Amazon and eBay. This exponentially increased the number of potential buyers that sellers have access to and—in turn—their earning potential.
It was clear early on that things had changed forever. Still, this new model required that sellers work through and alongside third-party marketplace platforms. And, like any business relationship, working together would require trust.
For its most recent marketplace report, The State of Ecommerce Selling in 2017, Hyperwallet surveyed 1,500 ecommerce sellers to learn more about their preferences and behaviors. Last week, we looked at how ecommerce marketplaces can foster loyalty amongst their sellers, and we revealed that one of the top reasons that sellers stay loyal to a platform is a sense of trust. In this particular article, we're going to look at trust more closely: what functions of the selling process respondents trust their ecommerce marketplace to fulfill quickly, efficiently, and securely—and which they don't.
27 percent of survey respondents don't trust the security of marketplaces' mass payments
Click To Tweet
Sellers Are Concerned About Marketplace Security
Perhaps more than any previous year, cyber-attacks dominated the news cycle in 2016. The most prominent, no doubt, was the hack of the Democratic National Committee and the ensuing leak of emails from major political figures. There were also revelations of cyber-attacks that took place in years prior, compromising users of websites like Yahoo, MySpace, Tumblr, and DropBox, among others. In the payments industry, cybercriminals were able to exploit vulnerabilities in SWIFT, a cross-border payments messaging system, to steal millions of dollars from international banks.
It will come as no surprise, then, that ecommerce users are wary of ecommerce marketplace security. Of the sellers Hyperwallet surveyed for the report, more than half (53 percent) don't trust ecommerce marketplaces to securely handle their personal information. Additionally, more than a quarter (27 percent) of respondents don't trust the security of marketplaces' mass payment processes.
…And They're Distrustful in Other Ways, Too
Ecommerce sellers' trust issues don't end there. One third of respondents (29 percent) say that they don't trust the speed of their marketplace mass payments, and about the same number (27 percent) don't trust that ecommerce platforms will step in when a payment is delayed—or not sent at all. Not without reason, of course: a quarter of sellers (26 percent) say they haven't received payment for a product they've sold online.
1/3 of survey respondents (29 percent) don't trust the speed of their marketplace payments
Click To Tweet
This is a big deal. In our last article, we correlated platform trust with platform loyalty—that is, sellers' likelihood to stay on a platform rather than moving to a competitor. Conservatively, we can say that half of ecommerce sellers today distrust their platform's ability to quickly, efficiently, or securely fulfill at least one function of the selling process, and roughly one third don't trust their marketplace to fulfill multiple functions. If any given ecommerce marketplace lost a third of their sellers to competitors over the next six months, what sort of impact would that have?
Improving Trust Through Secure Global Payouts
There's no going back to the way that things were before. Ecommerce selling is here to stay, and—by all estimates—is expected to balloon in the years to come. As more individuals migrate to marketplaces as a way to supplement their income, it's the platforms that can foster trust with their supply-side users that stand to benefit the most.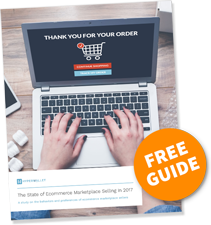 Hyperwallet works with ecommerce marketplaces to implement global payout processes that help keep sellers secure online. Through bank account tokenization and graduated payee identification, Hyperwallet provides secure cross-border transactions while freeing marketplaces from the need to store sensitive information on their own servers. Our integrated payment tracking tools help clients and sellers better predict the timing of their payout delivery. And with Hyperwallet's exceptional payout speeds, sellers can rest a little easier knowing that they'll have their earnings as soon as possible.
Download The State of Ecommerce Selling in 2017 for more information.
Hyperwallet Payout Platform