Are Slow Payments Killing Your Gig Platform?
TL;DR
Long payment delays might be giving pause to potential gig economy earners.
Are slow payments killing your gig platform?
Last week we introduced the results of Hyperwallet's Payday in America report. The survey asked around 2000 American W2 (employee) and 1099 (contract) workers about their financial habits around payday. A key theme emerged from those findings: financial insecurity is rampant in the United States, with a majority of Americans living paycheck-to-paycheck. Respondents reported that even a slightly delayed paycheck could have serious financial consequences.
On average,#gigeconomy earners wait far longer to be paid than traditional employees.
Click To Tweet
Given that many Americans are just barely getting by from week to week, it's troubling to learn how long workers are forced to wait for their paychecks. According to the Payday in America survey, more than two thirds of American workers wait a minimum of one to two business days for their paychecks to process. Roughly 15 percent wait three to four business days, while 7 percent wait over a week.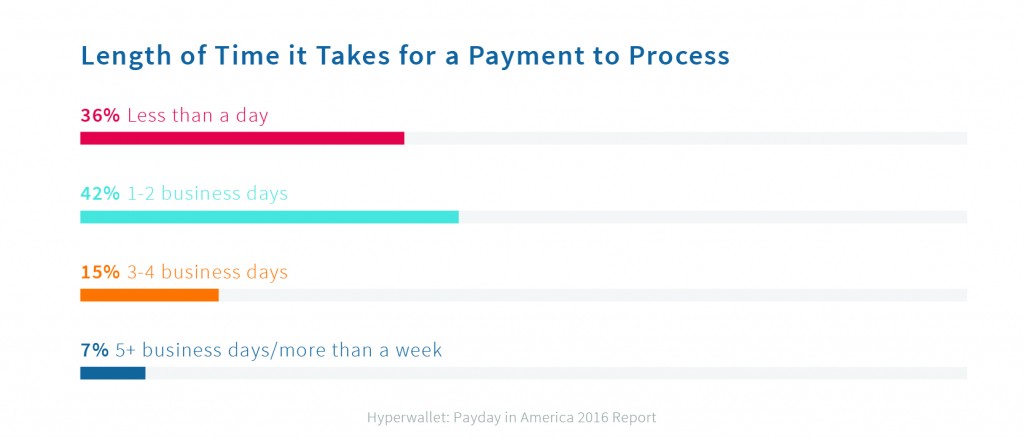 That said, payment delays aren't consistent across worker classifications. Comparing wait times between W2 and 1099 workers, we found that (on average) independent contractors wait longer to be paid than traditional employees. For 1099 workers specifically, 28 percent need to wait three to four business days and 15 percent must wait more than a week before their paycheck becomes available. Far more independents than W2 workers—roughly double—are forced to endure lengthy processing times before they can access their earnings.
Slow Payments in the Gig Economy
The disparity between W2 and 1099 workers in paycheck wait times isn't altogether a surprise. Whereas historical contract work typically saw a one-to-one payment relationship (e.g., paying a carpenter to build a fence in your backyard), modern businesses utilizing large groups of independent contractors have struggled to find a payout solution that matches the consistency of traditional employer-employee payroll schemes. The added complications of paying 1099 workers—particularly across international borders—have stymied the emergence a payroll equivalent for the independent workforce.
If the #gigeconomy is going to succeed, contractor payments need to be faster.
Click To Tweet
These delayed payout times for 1099 workers are particularly bad news for gig platforms, which need to attract and retain supply-side users to ensure transactional stability and platform growth. Michael Ting, Hyperwallet's SVP of Digital Markets, late last year: "Most of these [workers] come onto these [gig] platforms for a single purpose, and that's really to make money. They're naturally going to gravitate towards the one—and promote the one—that gets them paid most easily and most conveniently." It's true that efficient payouts could give your gig platform a competitive edge right now, but if slow worker payouts remain pervasive in the space, we could see stalled growth across the entire gig economy. Why would American workers—already stretched to their financial limits—abandon a regular paycheck and risk slow or inconsistent payouts?
Many in the gig economy have recognized their outbound payment problem. At the time, Ting pointed out that a number of platforms have begun to rethink their approach to worker payouts: While slow worker payouts can push workers away from your platform, efficient worker payouts can boost loyalty and productivity—but whether platforms will resolve payouts quickly enough to maintain the gig economy's growth remains to be seen.
Putting Payments in the Fast Lane
Of course, the simple reality is that a payroll equivalent for 1099 workers already exists, and pays nearly 8 million independent workers globally today. Hyperwallet's comprehensive payout platform ensures that independent contractors and resellers get paid quickly, affordably, and in their preferred currency. What's more, the Hyperwallet platform has integrated support features—like 1099 tax services, expense management, and payment tracking—that help 1099 workers get more out of their paychecks than they ever could with a traditional payroll scheme.
Don't keep your independent contractors waiting for their earnings. Increase your payment speed and send real-time earnings with Hyperwallet's rapid payout process.
Hyperwallet Payout Platform