What is the Payee Pay Portal Environment?
This blog is part of Hyperwallet's "For Your Payees" resource series. Blogs in this series are designed to provide your payees with important information on various components of Hyperwallet's payout technology. For more payee-focused tips and content, please follow Hyperwallet's dedicated payee support handle on Twitter at @AskHyperwallet.
TL;DR
We know the experience of your payees is important to you. In this article, we'll define some key terms, and address some common questions associated with the Payee Pay Portal environment, and the payout experience in general.
Giving your payees self-serve access to their payouts allows them greater control and visibility over their available funds, and can help increase satisfaction and retention.
Helpful Key Terms and Definitions
Before we take a look at some commonly asked questions about the Pay Portal, let's first define some key terms that your payees may see referenced within the Pay Portal environment.
Payee: Hyperwallet refers to the end user, or recipient of the funds, as a payee. A payee is an individual that receives payments to their account on the Pay Portal. As an organization, you will need to create an account on behalf of your payees before they can receive their first payment.
Pay Portal: The Pay Portal is a secured interface where payees receive any payments sent by your organization. Once an account is created for a payee by your organization on the Hyperwallet back office, an email notification will be sent to the recipient requesting they activate their account.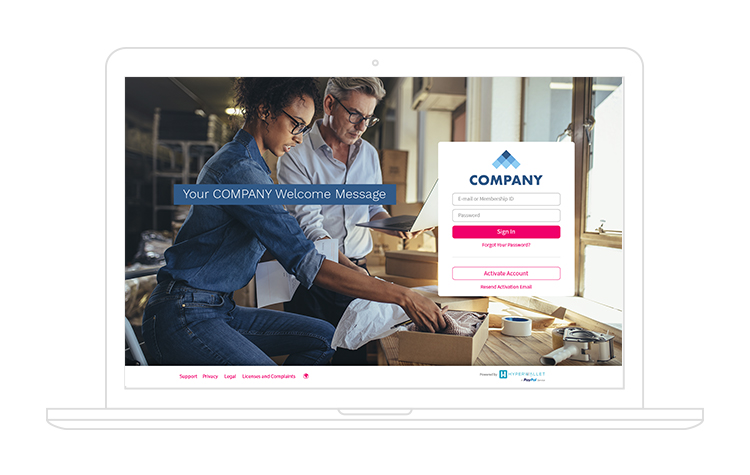 Common Pay Portal Questions
The Pay Portal is designed to be as intuitive and user-friendly as possible. That said, sometimes questions do come up.
How does a payee activate their Pay Portal?
Most payout programs on the Hyperwallet system require account activation. Hyperwallet encourages payees to activate their Pay Portal account as soon as it has been created so they can access and collect any payments. By activating the account, payees have better control over their transfer options. The transfer methods available to a payee is controlled entirely by your organization.
How does Hyperwallet keep the Pay Portal secure?
Hyperwallet strives to ensure that the portal is secure and safe. Hyperwallet requires a 2-part verification process in order to verify the identity of a payee at login and avoid malicious activity. As an organization, we are committed to privacy and security and we take the highest precautions to ensure we adhere to it.
Hyperwallet also takes great steps to ensure the security and privacy of payee information. The security questions payees create when they activate their account on the Pay Portal helps to ensure that we are speaking to the verified account holder, and is a crucial step to avoiding fraud. Furthermore, Hyperwallet's payee support team is only authorized to speak to the verified account holder.
Hyperwallet will attempt to auto-verify the payee automatically using information that has been provided during account creation or activation. However, a payee may be required to provide additional information and/or documents if required data is missing or incomplete on the account or automatic verification fails.
How can payees transfer funds?
Transferring funds from a payee's account on the Pay Portal is easy thanks to an intuitive user interface. Once transfer methods are set up, dependent on your organization and country of origin, payees will be able to transfer funds at the tip of their fingers.
What are the available transfer methods?
Hyperwallet offers 9 different transfer methods that can be configured based on your organizations payout needs. These include PayPal, Venmo, and local bank transfers. Due to licensing and restrictions, transfer method availability may vary depending on the country or region that the payee and your organization reside.
Additional Resources
We hope that this article has armed you, and your payees, with some knowledge about Hyperwallet's Pay Portal, and that you feel empowered to support your payees through their payout experience.
For more end-user assistance with Hyperwallet's Pay Portal, feel free to have payee's tweet @AskHyperwallet for direct assistance or instruct them to visit our dedicated payee support webpage.
Are you an enterprise or marketplace interested in learning more about Hyperwallet's Pay Portal Payout Experience? You can learn more here.
Hyperwallet Payouts