An Interview with Universe CEO Craig Follett
Global scalability. With a name like Universe, it's not surprising that company CEO and co-founder Craig Follett is focused on expanding his company's reach.
We're excited about the entire globe at @Universe - @CraigFollett
Click To Tweet
An event ticketing and marketing platform and wholly-owned subsidiary of Live Nation Entertainment Inc., Universe recently integrated Hyperwallet's global payout functionality into their payment flow to automate funds distribution and accelerate their international expansion efforts.
"We're excited about the entire globe at Universe," remarked Follett during a recent phone interview. "New Zealand, Hong Kong, Japan, Singapore, Brazil, Mexico… It's very exciting for us to remove the bottleneck that was formerly in place and constraining us from expanding internationally." Since Universe is a do-it-yourself platform, the company is cognizant of the needs of its users—particularly when it comes to receiving their earnings.
"How do we automate the payouts for our event organizers?" That was the question that started Follett's search for a better outbound payment partner. Prior to integrating with Hyperwallet the company had managed all of their payouts in-house, in conjunction with banking partners. The situation was less-than-ideal, and Universe's manual payout processes became a limiting factor as the company began expanding into new markets.
Universe unlocked new payout currencies without additional integration effort #fintech #payments
Click To Tweet
"Initially, we were just looking to automate this [process] operationally. And then, when we were comparing different offerings, what we loved about Hyperwallet was that this could actually enable us to accelerate our growth internationally." Joseph McAuliffe, Universe's Director of Business Development in the United Kingdom, echoed Follett's sentiment: "Being able to expand and offer additional currencies, specifically within Europe, and as it goes with Australian and Scandinavian currencies, it's quite exciting."
The Universe payout solution is an entirely branded implementation of Hyperwallet's Portal solution. Fully-branded to match the platform's native user-experience, Universe payouts launched with USD, CAD, EUR, and GBP currencies enabled. Following a successful launch, the company made the decision to expand and offer Australian dollars, as well as a number of Scandinavian currencies, specifically the Danish krone, Swedish krona, and Norwegian krone.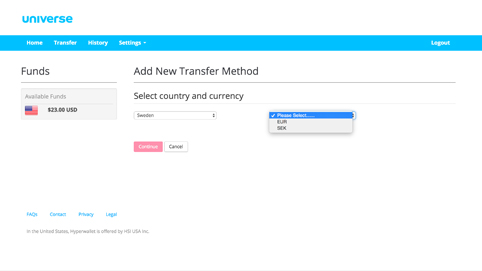 Universe recently enabled Swedish krona as a payout currency.
The ability to easily unlock new currencies without additional integration efforts was a big selling point for the Universe team. "All the data is there, and there are access levels so that we can give our accountants and bookkeepers different access rights than our support staff, and our management team. But the particularly exciting thing was the fact that we could launch new currencies."
Implemented in early August, the Universe solution has already helped alleviate issues for the company's growing network of global promoters. McAuliffe's early impressions? "The technology is great, and the feedback has been excellent."
---
Listen to the full audio of the interview with Universe's team above. For more information on our Portal solution, please contact a Solution Expert today.
Download the Case Study
Want the full story on Universe's payout solution with Hyperwallet? You can download the complete Universe case study here.
Hyperwallet Payouts