Where's My Money? The On-Demand Economy Wants to Get Paid
TL;DR
While collecting inbound payments has become increasingly easier for marketplace companies, sending outbound payments to workers — specifically in the on-demand economy — is still a costly, friction-filled process. Hyperwallet's Head of Financial Networks believes the next frontier of payment innovation will be in the outbound arena.
Uber, Lyft, Upwork, Postmates, TaskRabbit, Doordash—even if you haven't used one of these services yourself, you certainly know who they are. Whether you know it as the sharing economy, collaborative consumption, or the "gig" economy, these companies have ignited the growth of a new class of worker. Drivers, couriers, task runners, and freelancers: in this new economy, the world's citizens represent the new workforce, and a swath of online and mobile marketplaces are connecting a growing group of these service providers with service seekers. In many ways, this army of independent workers represents a new product category in and of themselves. And it's this type of innovation, what with its boundless potential, that is changing how we as consumers live, work, and play—not to mention disrupting the way many businesses have traditionally delivered these services.
The Issue With Outbound Payments
Despite all the rapid innovation in this new world economy, there's one specific area that has remained largely stagnant: payments.
And no, I'm not talking about incoming payments; there are many merchant acquirers and payment service providers who have elegantly solved the issues associated with accepting payments from a globally distributed customer base. I'm talking about paying out—the fractured process of sending massive volumes of outbound payments to an internationally dispersed workforce or community of sellers.
Marketplace platforms don't have a universal solution to handle outbound payment issues.
Click To Tweet
Paying the thousands, if not millions, of individuals around the world who are responsible for performing the tasks and supplying the assets that fuel these marketplaces isn't easy. The situation is further exacerbated by the low-value nature of these payments, where it's not uncommon for workers to be paid a $10 fare for a car ride, or a $7 commission on a grocery shopping trip. At this point, marketplace platforms simply don't have a universal solution to handle this unique business issue. While there are many viable solutions in the market, each is largely pigeon-holed into a single type of payment—whether that be a prepaid card, an e-wallet, a bank deposit, a check, or good old-fashioned cold cash. Instead, companies have been left trying to cobble different solutions and providers together in order to create a payout network capable of handling rapid growth, while maximizing the number of payout options available to the payee community. While inbound merchant payments have an ubiquitous payment method for receiving funds, namely the Visa and MasterCard networks, there's nothing comparable at the other end of the value chain. This would require something resembling one truly global bank network capable of enabling the reliable, consistent, safe, and cost-effective transfer of funds. Unfortunately, that's something that simply doesn't exist (we'll save the blockchain for another discussion).
Solving the Contractor Payment Puzzle
So how can the on-demand economy begin to solve this problem? For the most part, it's typically solved by each company on an as-needed basis as the businesses evolve. Unfortunately, the spectrum of needs can include everything from geographic nuance to cost optimization to delivery speed to compliance. What's more, overlaying all of this is the need to minimize friction and accommodate the unique preferences of each individual worker or seller on the platform. For example, a freelance graphic designer in a country with very high bank account penetration may decide that she doesn't want to have her earnings deposited into her family's main bank account. Rather, she'd prefer to segregate these funds into her own discretionary income account, (whether that be a prepaid card or an e-wallet) where she can further control and manage her funds. These kinds of personal preferences are manifold and random, yet accommodating them is necessary in order to build worker affinity and drive platform retention.
The approach of integrating and operating multiple payout solutions was not designed to scale.
Click To Tweet
Which raises the question—is it practical for marketplace platforms to deliver that level of payment optionality? Sure. But not without a cost. Currently, marketplace platforms have to patch together their own solution using a multitude of third party integrations and service agreements, not to mention maintain multiple international accounts to handle funds in various currencies and manage the associated cash flow. This ultimately results in incongruent payee experiences, customer support issues, and varying degrees of transparency (or rather opacity) into downstream costs and payment delivery. Hard as marketplace companies try, it's practically impossible to keep the users entirely insulated from that complexity and inconsistency. As a result, it isn't long before the payment promise and experience breaks down, impacting the trusted relationship between the marketplace platform and its community of suppliers.
Delivering on the Payment Promise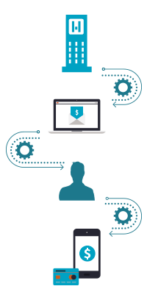 It's safe to say that the basic foundations of a solid on-demand payment promise are relatively straightforward and obvious. In order to be successful, the experience must enable payee choice, maximize the worker's take home pay (i.e., minimize transaction costs), foster a safe and compliant environment, enable complete transparency, and delight the user with new and value-added opportunities. But delivering on that promise consistently across a variety of solutions, service agreements, and technologies, all the while minding the many other facets of an on-demand business platform, is a tall order for any company.
A simpler, more holistic solution to outbound payments is long overdue, and the emergence of new marketplace models is further fueling the urgency. The fact of the matter is, the traditional paradigm of integrating and operating multiple payout solutions was not designed to scale. However, "massive scale" is something that many of these new economy businesses are achieving at alarmingly rapid rates compared to traditional corporations. These on-demand businesses need comprehensive payment solutions for their workers, payout solutions that match the level of simplicity, transparency, and flexibility that's already native to the platform. The payment provider community cannot rest on its laurels as it has historically. Not this time.
The call for innovation is now.
Hyperwallet Payouts