Why Duct Tape Won't Fix Your Bank Payouts
TL;DR
When it comes to cars and bank-based payouts, functional isn't always synonymous with effective. While bank transfers offer a functional way to send money, a payout platform can improve operational efficiencies, enhance the overall user experience for a wide range of payees, and support further expansion of your platform.
"If it ain't broke, don't fix it."
This is easily one of my Father's favorite sayings. From cars to kitchen sinks, and everything in between, my Dad has long believed that functional is synonymous with effective. Which, on the surface, might not seem like a controversial statement, but let me paint you a little picture. For years (I repeat, years) my Father drove a beat-up blue Pontiac Acadia. As far as cars go, it qualified as functional… in that it had four wheels and managed to get our family from point A to point B. Beyond that, ol' Betsy had some issues. Not only were the seats held together by duct tape (my Dad's second favorite handyman item, WD40 being the first), but portions of the car floor were actually missing. Thanks to the prevalent use of road salt in our Canadian town, areas of the driver's side flooring had eroded to the point of disintegration, save my Dad's strategically positioned floormat (firmly secured with, you guessed it: duct tape).
Betsy was not technically broken. And, fun as it was to have a real-world Flintstone car as a kid, I'd argue she definitely could have used some fixing. While functional, my Dad's car was far from the most effective means of transportation; better options abounded.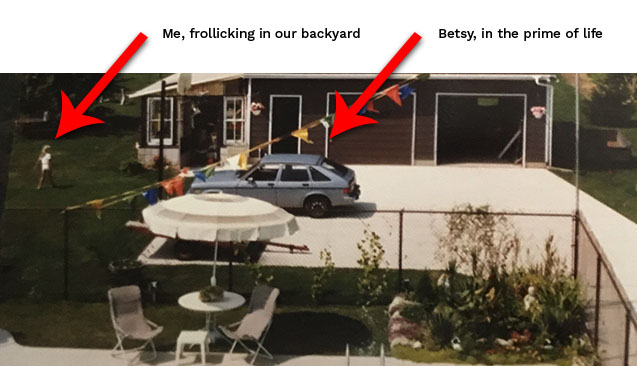 Oddly enough, I still hear the phrase, "if it ain't broke, don't fix it," all the time, though thankfully it's no longer in reference to my family's rolling safety hazard. Now I hear it from prospective Hyperwallet clients in reference to their bank-based payout solutions. As a marketplace, bank transfers are arguably one of the best-known ways to disburse funds to a large domestic seller, freelancers, or distributor base. And I will be the first to admit, as far as funds transfers go, bank-based payments are fully functional. Like my Dad's old car, they can certainly get your funds sent from point A to point B. But are ACH transfers and domestic wires the most effective way to facilitate fast and affordable payments to your payees? Let's take a quick look under the floormat to find out.
Uncovering Holes in Bank Payout Offerings
When it comes to payout effectiveness, it's high time that digital marketplaces come to terms with the fact that bank transfers no longer offer the best solution. To explain this, let's look at three major areas of difference between the typical bank transfer process and a payout platform approach.
User Experience
Banks, and the services that they offer, have been designed to cater to broad audiences and, as a result, tend to provide a relatively generic user experience. In this sense, "Business" banking services are designed to accommodate any and every business, regardless of any unique industry needs. A bank's focus is managing risk, whereas more agile fintech players can build highly specialized services designed to meet the unique needs of specific industries and evolving business models.
From accessibility to speed, personalization to convenience, the technology deployed by payout platforms is focused on streamlining functionality. The result of which enriches both the merchant and the payee's overall experience.
Bank Payouts
Payout Platform

User Experience

Bank transfer is typically the only payout method available (this can include ACH transfers, international ACH transfers, domestic wires, and international wires)
Access to bank transfers, as well as numerous other payout methods, including non-banked options like cash pickup or digital wallets, make it easy for payees to collect payment from your organization using the method they prefer without requiring a bank account
Payee needs to know their banking details (SWIFT code, routing number, account number, IBAN number) in order to collect payment, which ultimately creates unnecessary friction
The technology behind payout platforms provides merchants with a number of ways to streamline their funds disbursement processes. For example, merchants can place the collection of payee data within their own app and/or website, and payees can easily be notified and collect their earnings through a basic email, text message, or push notification.
3 to 5 days (on average) for cross-border payout delivery time for bank transfer
Real-time payout delivery available, dependent on payout method selected
Efficiency
Banks are creatures of process, and for good reason – a regimented approach is necessary when you're responsible for supplying the world with credit. Unfortunately, these often-rigid processes don't always lend themselves to iteration or individuation, a factor that ultimately forces businesses to solve for a wide range of inefficiencies on their own.
Payout platforms are designed to not just solve these inefficiencies but can also help provide value-added services that further streamline merchant operations and payee processes.
Bank Payouts
Payout Platform

Efficiency

Marketplace merchant is required to collect and store sensitive payee data – potential security issue
No payee data is typically stored by the merchant; the payout platform can collect, manage, and securely store data using tokenization
Offer no visibility into the bank's funds transfer or in-line bank validation
Real-time verification and visibility into the transfer (for both the merchant and the payee), help to reduce exceptions, returns, and payment delays
Offer no visibility into payee bank accounts
In-depth reporting and webhook interconnectivity provides visibility into payee pay portal account activity and payment statuses ensuring the merchant has increased control over their payout programs set up
Expansion Efforts
Sending money between bank accounts in different countries is a painful and expensive experience. In order for a merchant to send money globally, that single payment will need to ride multiple international financial rails in order to get to its final location. It's often a very manual way to send money cross-border, and one that becomes frustratingly inefficient and unbelievably expensive when you need to send a high volume of lower value payments on a weekly or even daily basis, as is the case for most marketplace platforms.
As correspondent banking becomes increasingly untenable, payout platforms have jumped on the opportunity to build a better, faster, and smarter way to send money cross-border. While banks are already connected to their country's local clearing networks (i.e. the same day ACH network in the US), payout platforms are working to connect these global real-time clearing networks to each other in order to build a truly global network.
Bank Payouts
Payout Platform

Expansion Efforts

Offers limited network for payouts and funding currencies
Provide access to the same day ACH network, as well as other global real-time financial networks, multiple currencies, and non-bank financial networks (Cash Pickup, PayPal, etc.) to help ensure quick and easy global funds disbursement
Support is limited to local language and banking hours for merchants (payees support offered only through their local institution)
Multilingual, payout dedicated support services can be made available 24/7 via email, phone, and online chat.
No integrated spend-back loop to encourage spending on the merchant's digital store
Payout platforms can include a spend-back feature that makes it easy for payees to use funds to purchase merchandize or services from the merchant (with minimal merchant processing fees)
Investing in Your Marketplace's Future
My Dad, back in the Betsy days.
You might be wondering, "So, whatever happened to Betsy?" Did my Dad drive her until she couldn't muster the energy to turn her engine? Did the floor suddenly give out on the freeway one day? The answer is no, to both (my Dad is, thankfully, still alive and kicking). What actually happened was my Mom. You see, while my Dad had no problem with the flow-through ventilation, my Mom definitely was having none of it. Betsy retired her rims the minute my Mom discovered my Dad's handiwork, which just goes to show you… just because you don't think it's broke, doesn't mean you should avoid fixing it. Creating an effective payout process requires you think outside the box (or in the case of payouts, the bank) to ensure you're providing your users with the experience they want, not just the basic functionality you think they need. Now's the time to put down the duct tape and invest in a payout platform that enhances the overall user experience for a wide range of payees, improves operational efficiencies, and is primed for expansion.
Happy Father's Day to all the duct-tape-loving Dads out there, especially mine.
Hyperwallet Payouts