Balancing Profits with People & Purpose on Your Platform
TL;DR
Does your on-demand platform embrace the same values as your workers? Give your workers what they want with the four Ps: profit, people, products, and, most importantly, purpose.
Remember my marathon-running, house-renovating, overachieving friend, Emily? We met her in a post I did a few weeks ago that discussed worker motivations in the new economy. Determined, driven, and seemingly incapable of sitting still, Emily is a shining example of a modern worker. An autonomous self-starter, Emily doesn't just do stuff, she gets stuff done. (At first glance, you may think those two things are one and the same, but they're far from it. Check out this Lifehacker article for some clarity.)
87% of Millennials believe there's more to a successful business than profits.
Click To Tweet
Now, it's no surprise that Emily is a successful twenty-something; self-driven types tend to have an innate ability to triumph, regardless of the odds. What's interesting about Emily's entrepreneurial ambition is that she's funneled it into a social enterprise. While Emily is all for making money (those house renovations aren't going to pay for themselves), the mighty dollar isn't the only thing that gets her out of bed and into the Link2Feed offices every morning. And she's not alone. According to The Deloitte Millennial Survey 2016, almost nine in ten (87 percent) Millennials believe that "the success of a business should be measured in terms of more than just its financial performance."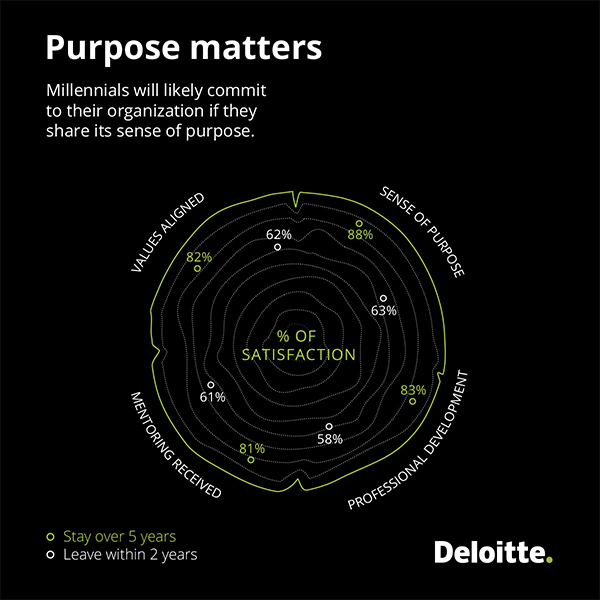 While Millennials recognize that financial success is one of the elements that characterize a top organization, they're also adamant that money, on its own, isn't enough to sustain a business. Instead, research from the Deloitte survey found that Millennials expect leading organizations to combine profits with people (employees and in wider society); products; and, most importantly, purpose. It's only when a company has the right mix of all four elements that Millennials take notice.
Millennials expect businesses to combine profits with people, products, and purpose.
Click To Tweet
Building a Better Platform
So why does this matter to businesses in the new economy? Well, for one, Millennials are the demographic most attracted to working on on-demand platforms. Secondly, solving for supply-side satisfaction is critical if your platform is going to be successful over the long-term. Attracting workers to sign up on your platform is just the first step on the stairway to long-term affinity. In order to make it to the top, you're going to need to give your workers what they want.
Solving for supply-side satisfaction is critical if your platform is going to succeed.
Click To Tweet
A survey released mid-January by Burson Marsteller, TIME, and the Aspen Institute Future of Work Initiative has found that even as on-demand businesses provide faster, easier, and more fulfilling ways for ambitious individuals to connect to work opportunities, many platform participants feel that marketplaces should be doing more to help their workers succeed.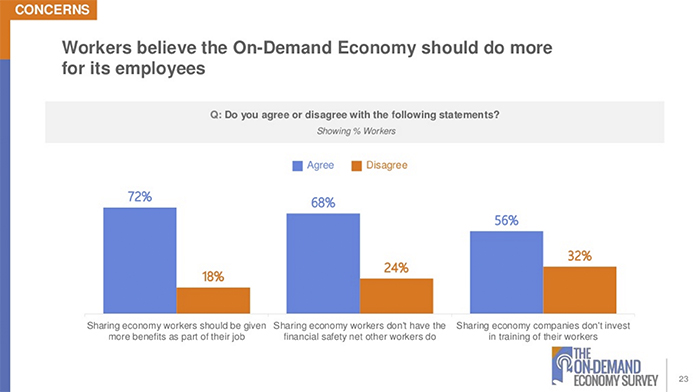 Walk the Walk: Actionable Improvements
While platforms are great at innovating around creative infrastructure improvements—enhancements that enable production—these basic tools have minimal impact on worker motivations and they don't provide workers the things they actually want. In fact, there's really only one thing that influences these needs equally: money.
So hold onto your wallets; over the next six weeks I'm going to put on my product engineering hat and offer up some actionable infrastructure recommendations proven to drive worker and supplier affinity within platform ecosystems. Because let's be honest: if you can't attract and retain workers, your big marketplace platform idea will ultimately fail. To quote Hyperwallet's CEO Brent Warrington, "it'll be nothing but an empty icon forgotten on a smartphone screen."
Hyperwallet Payout Platform