Don't Let Kevin Costner Kill Your On-Demand Platform
TL;DR
On-demand economy founders need to stop building fields of dreams and focus more on motivating their workers and seeding a circle of success on their platform.
First, I'd like to say: Mr. Costner, if you're reading this, please don't be offended. I don't actually think you're out to destroy the on-demand economy. In fact, I'm a big fan. The Bodyguard was an absolute masterpiece. But I have to admit, I've got a bone to pick with you when it comes to Field of Dreams. That line, "If you build it, he will come," that Ray Kinsella hears in the cornfield? It's giving a lot of startup founders a false sense of security when it comes to building their businesses.
Let me explain.
Running a tech company is, well, it's a lot like captaining a sinking ship.
Click To Tweet
Running a tech company is, well, it's a lot like captaining a sinking ship. Your chances of going under aren't just good; they're practically guaranteed. According to Steve Blank, 90% of high growth tech ventures will fail within three years of launch. Now, I'm not saying Kevin Costner should be held solely accountable for these failures, but it's time for tech companies—especially those operating in today's new on-demand and sharing economies—to realize that simply building something amazing does not guarantee immediate success. Some of the coolest, most innovative companies never really get off the ground. Why? Because it doesn't matter how great your technology or idea is; if your business model is broken, you'd better find a bucket and start bailing water.
Platform Economics 101
We're all familiar with traditional, linear business models: a business creates a commodity, pushes it out, and sells it to a customer. Value is produced at the beginning of the chain and consumed at the end. Costner? He's a linear business kind of guy: build a product (or a baseball diamond in a cornfield) and use that to attract consumers (or the Chicago White Sox).
But today's on-demand economy companies don't run on linear business models—they run on platforms. And according to Sangeet Paul Chaudry, a widely published technology analyst, platforms require far more value than traditional business models to succeed. They need value for both the supplier and for the consumer.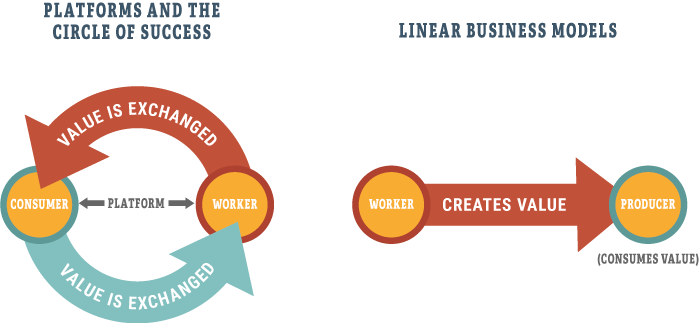 Rather than creating and pushing out commodities or services, platforms allow users to participate in all areas of the process (both the production and consumption), creating a continuous value chain. So forget about Field of Dreams—platforms want to focus on a Circle of Success. Like it or not, a platform has no value unless your workers are properly motivated. You can't have buyers without sellers, passengers without drivers, or revenue without inventory.
Forget about a Field of Dreams; #ondemandeconomy platforms need to focus on a Circle of Success.
Click To Tweet
How to Build a Better On-Demand Platform
So, here's a quick three point recap:
You shouldn't listen to voices coming from cornfields.
Successful on-demand companies are built on platforms.
Platform economics rely on an infinite loop of value production and consumption.
The big question now is, how do you start the circular value flow on your platform and turn your awesome idea into a profitable new economy enterprise? I don't have a guaranteed answer to this. If I did, I'd be riding unicorns in San Francisco with my BFF Leah Busque (tweet me Leah, we should really hang out).
When I grow up, I want to meet @labusque at a tech conference and instantly become her best friend #lifegoals #imnotastalkeriswear

— ChantielleMacFarlane (@chantiellemac) August 27, 2015
That being said, I've got a few theories based on some of the client implementations we've executed here at Hyperwallet. As the leading worker payout provider for the on-demand economy, platform companies rely on Hyperwallet to pay their global workforce—quickly, securely, and efficiently. Earnings distribution management is a huge responsibility; if we screw it up, our clients' workers will lose faith in the platform and stop producing. But if we do it in a way that delights the worker and enables them to succeed on our client's platform, then voilà: we've played an instrumental part in the creation of a robust Circle of Success.
Simply put, on-demand economy platforms need to keep their workers and suppliers happy. To do that, you'll need to understand your worker's motivations, build frictionless infrastructure, and offer up worker-focused tools and pipes that empower your workers to make the most of their earnings.
Over the next handful of weeks, I'll be providing some further insight into what motivates the millions of freelancers, couriers, drivers, artists, taskers—you name it—who have made the shift to independent work, further explaining how efficient earnings distribution can have a huge impact on your workers' output, affinity, and ultimately, your platform's success.
Hyperwallet Payout Platform