How Santa Improved Payout Optionality
Because even the world's jolliest of residents runs into cross-border payout problems.
The Situation
Limited payout optionality and unforeseen difficulties in operational expansion were causing problems for the North Pole's CEO, Santa Claus. Company culture was hurting; cheer was at an all-time low. Santa, with his preference for writing lists and building toys, needed an experienced payout partner to help improve the payout process for his holiday gig workers (or "elves") and support the growth of his global operations.
The Company
The North Pole is known globally for its holiday gift manufacturing and efficient worldwide distribution network. (Santa makes only one toy delivery annually, travelling around the world in a single night to deliver presents to good girls and boys. His methods are proprietary and highly secretive.) Santa currently operates from a single, northern workshop location—however, increases in global population are forcing him to expand rapidly.
Santa was worried, cheer was at an all-time low in his workshop. Could a better payout system help?
Click To Tweet
The Challenge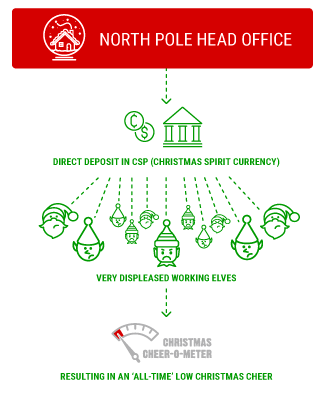 Before switching to Hyperwallet, Santa's elves were left with just a single payout method and currency: direct deposit of the Arctic's local currency, Christmas Spirit (CSP). Requiring his elves to have a bank account capable of accepting Christmas Spirit was proving problematic for Santa's North Pole recruiting efforts; in order to hire more holiday giggers, he would need to be able to onboard unbanked elves. Although he had operated from a lone North Pole workshop since at least the early 1800s, swelling global population had forced Santa to consider opening two new workshop locations. Santa was eyeing a spot near Point Barrow, Alaska—the northernmost point in all United States territory—as well as a spot just outside of Iqaluit in Canada's Northwest Territories. These two new workshops would allow for increased toy output, as well as shorter overall delivery times. But Santa, unfamiliar with international currencies and the cross-border payment regulations that other global businesses are subjected to, wasn't prepared to tackle the complications of expanding on his own.
The Solution
Santa adopted Hyperwallet's Portal payout solution as a way to improve his funds distribution process and provide better payout optionality to his elves. Hyperwallet's global network also made it easier for Santa to expand his operations outside of the Artic, opening additional workshops in the US (Alaska) and Canada (North West Territories). With Hyperwallet, Santa was able to keep payment wait times low for his dispersed holiday giggers, as well as ensure they were paid in their local currency.
Payout Optionality
Requiring his holiday giggers to have a Christmas Spirit bank account was creating a ton of friction for Santa's hiring team. If Santa was going to expand his operations, he needed to remove this barrier to entry—and that meant putting the power of payout choice into the hands of his elves.
SOLUTION: Utilizing Hyperwallet's Portal solution, Santa introduced a self-serve web and mobile payout dashboard that would allow elves to manage their earnings themselves. Through a Hosted implementation, Santa avoided a development-heavy integration process. (You think your Grandpa is bad with computers? You should see this guy.)
RESULT: With a full range of new payout options— Christmas Spirit prepaid cards, checks, and pickup—Santa's elves can choose the payment method most convenient for them. This helped with onboarding new elves, as well as improving the company's overall cheer rating—now exceeding that of its rival organization, Tooth Fairy Solutions.
Hyperwallet's Portal solution took the most complicated aspects of payouts out of my hands. Now I can focus
on what's truly important: determining if Billy Caldwell in Lancaster has been a good boy this year.
– Santa Claus, the North Pole's CEO
Global Financial Network
Santa's North Pole workshop had become cramped. Old Kris Kringle knew that establishing a few secondary workshop locations would dramatically improve workplace morale while simultaneously reducing his delivery distances.
SOLUTION: With Hyperwallet's global payout network, businesses can quickly move funds across borders, avoiding major delays while minimizing foreign exchange fees. For Santa, that meant affordable cross-border transfers with payment reporting and tracking features. For the new international elf recruits in Canada and the US, it meant faster earnings delivery in the local currency.
RESULT: Paying workers at Santa's two new North American workshops was easy. Santa simply funded these programs in Christmas Spirit and Hyperwallet made the payouts available to elves in their local currencies. Since launching, Santa has reported a significant decrease in payout issues, as well as a sharp uptick in cheer production at the two new facilities.
Hyperwallet is at the top of my payout provider 'nice list' this year! - @OfficialSanta
Click To Tweet
Giving the Gift of Loyalty
As the world's most generous geriatric, Santa was very interested in implementing Hyperwallet's Loyalty add-on feature. Rewarding his most loyal elves with earning-based gifts and rewards was something Santa could appreciate. The marshmallows on top of his hot cocoa, if you will.
SOLUTION: A free add-on, the Loyalty feature displayed curated rewards directly in the elves' Pay Portal. Designed to incentivize elves to pick up additional toy-making gigs at the workshop, Santa could strategically offer incentives based on earnings output. Incentives included sugarplum gift baskets and limited edition candy cane advent calendars.
RESULT: Prior to implementing the Loyalty feature, Santa noticed that elves completed roughly 300 toy building gigs per holiday season. With Loyalty, Santa saw a 20% increase in productivity. Not only did this increase an elf's individual earnings, it also ensured additional happy children on Christmas morning.
Hyperwallet would like to send all of our clients, friends, and partners the warmest thoughts and best wishes for a wonderful holiday season and a very happy New Year.
Hyperwallet Payout Platform