Money Talks: Maximizing Earning Potential on Your Platform
TL;DR
On-demand workers, suppliers, and resellers work hard for their money. See how providing your workforce with a range of supportive ancillary services can help them better maximize their income generation and improve their earning potential. 
"You wanna live fancy? Live in a big mansion? Party in France? You better work…" – Britney Spears
Now, I don't normally recommend taking career advice from Britney Spears, but she's sort of got a point here. If you want to bring in a substantial income, you've got to work, and according to the Economic Policy Institute (EPI), you've got to work a lot. Compiling data from a wide range of sources, including the U.S Department of Housing and Urban Development, the Federal Highway Administration, and the Bureau of Labor Statistics, the EPI has found the average cost of living in the U.S., excluding discretionary spending, is more than $65,000 a year for the average four-person household. That's roughly $50,000 (or 77%) more than what a minimum-wage worker earns.
New economies have created countless new revenue streams for industrious individuals.
Click To Tweet
Knowing the numbers, it's not surprising that more and more people are looking for ways to supplement their income with the help of marketplace platforms and the on-demand economy. In fact, according to the data from a recent Intuit sponsored report, money is the primary motivator for on-demand economy participants (see below slide).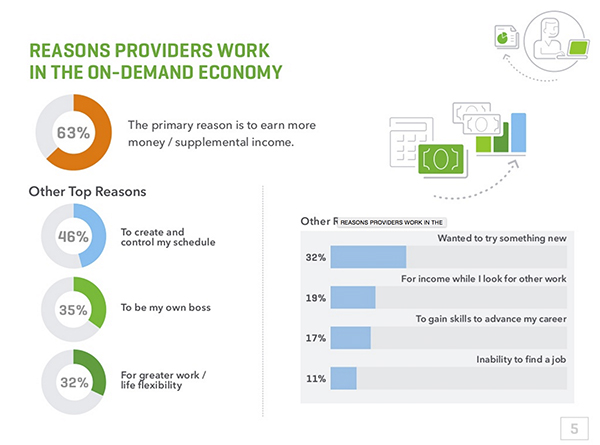 Whether it's exchanging non-products (e.g., space on Airbnb), redistributing underused goods (e.g., selling luxury items on The RealReal), or paying for access rather than ownership (e.g., renting out your car on Turo), new economies have created countless new revenue streams for industrious individuals.
Are your workers relying on third-party apps to improve their working experience?
Click To Tweet
But is your platform really designed to help your workers, resellers, and all the rest of the independents workers out there maximize their earning potential?
Cash Flow Can Be Such a Buzzkill
Running a startup-of-one is tough, even with the help of marketplace platforms and gig-finding apps. While finding work is the main concern, resellers, workers, and providers are also struggling to handle the wide-ranging financial and legal complications associated with self-employment. According to the 2015 1099 Economy Workforce Report, common pain points include tracking expenses, understanding tax and legal obligations, and tracking hours worked. Currently, workers are relying on third party apps to help them manage and track cash flow-related issues. And that's a bad solution at best.
Toolkit: Integrate Earnings to Optimize Money Management
Workers are on your platform because they want to make money. Make it easier for them by integrating essential management tools directly into the earnings acceptance area of your worker dashboard. Offering ancillary services as tools and pipes that work dynamically with your workers' earnings can simplify what is otherwise a complex and time consuming administrative practice. Imagine if you could integrate automated expense and mileage tracking, a tax savings calculator, one-click tax reporting, and profit-loss statements directly into your worker platform?
With Hyperwallet, you can.
Hyperwallet Payout Platform