Carrots, Sticks, and What Workers Really Want
TL;DR
Chantielle's friend, Emily, is crazy motivated. She's successful because she uses her motivators to push towards achieving amazing things. Marketplace founders and on-demand economy companies need to figure out what motivates their producers in order to achieve similar success on their platforms.
I have a friend. She's 27 and the president of a rapid growth software company. She works ridiculous hours, travels constantly, and still manages to make volunteering a major focus in her life. Outside of work, she's got a high-energy rescue dog, she's fixing up the house she owns with her boyfriend, and she recently ran the Detroit marathon.
My friend's name is Emily Branton, and she's the boss at Link2Feed. I also think she's crazy.
Not mentally-unstable-crazy, but super-motivated-crazy. Put a challenge in front of Emily and she won't just solve it, she'll knock it off its feet—Clay Matthews style (she's a big Packers fan; her dog's name? You guessed it: Clay). Anyways, whenever I have the chance to chat with Emily, I'm always amazed at how driven she is in everything she does. What motivates her to forego a more leisurely pace of life in exchange for a grueling schedule? On the surface, you'd think it's the carrot of money; president of a tech company, girl must be rolling in it, right? Not really. Her company's a social enterprise and a certified B Corp; so while profitable, money is definitely not her main motivator. So if it's not a carrot, perhaps it's a stick; she could be scared of the punishment that might come if she fails? Maybe, but it's not like she's going to fire herself if things get rough.
Meet @Eebranton. I think she might be crazy.
Click To Tweet
What Makes Your Workers Tick?
When it comes to getting things done, outside influences don't have much of an impact on my friend. Emily's dedication and enthusiasm is more internally focused. It's no coincidence she runs a B Corp; having a career that enables her to use her skills to help people is hugely motivating for her. And she knows it.
The better you know your workforce, the better your ability to build affinity with your platform.
Click To Tweet
Like a good leader, Emily understands her motivations and uses them to push towards achieving seemingly impossible goals. The same logic applies to the folks working at on-demand economy companies. The better you are at understanding what makes your workforce tick, the greater your ability will be to use these motivations to inspire success and build affinity on your platform.
Engineering Worker Motivations
In order for a on-demand platform to successfully attract suppliers and independent workers, it needs to be appealing (remember our value-driven Circle of Success?). Suppliers and workers need to be motivated and incentivized to ensure their continued participation. Now, obviously different things motivate different people; as such, there's no universal motivator that on-demand economy platforms can turn to as the default. That being said, research has managed to identify some of the big motivators driving the rise of the independent worker.
Research has identified three big motivators driving the rise of the #ondemand worker.
Click To Tweet
According to Mary Meeker's 2015 Internet Trends report, there are some basic motivations that span the worker spectrum. These are: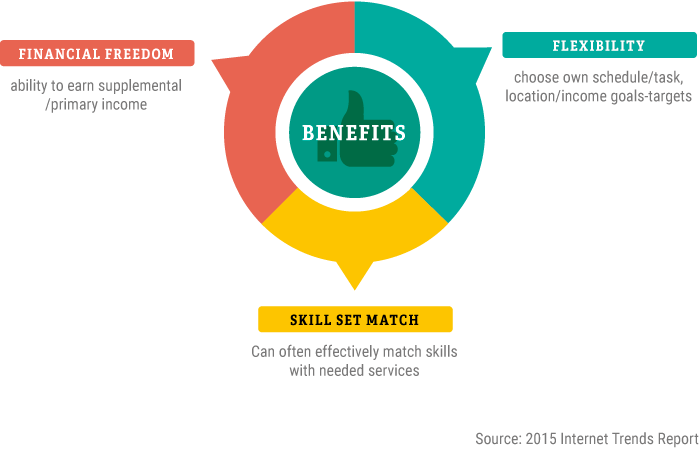 The 2015 1099 Economy Workforce Report from Requests for Startups recorded similar findings, with 75% of survey participants noting that "greater schedule flexibility" was the most popular reason for taking on an independent worker role, followed by the opportunity to pursue higher pay options (46%), and get greater enjoyment from their work (36.1%).
Attracting producers to a platform and keeping them active is critical for the success of your marketplace. To do this, you'll need to focus on making it easy for workers to achieve financial independence, maintain work/life balance, and engage in work that's both personally and professionally meaningful.
And in order to do that? You'll need to build a lot of infrastructure. Learn how by downloading The 2016 Guide to Independent Worker Success below.
But in the meantime, please feel free to connect with Emily. Just never tell her you enjoy going for the occasional jog. Trust me.
Hyperwallet Payout Platform