Come and Join Us at the Music Tectonics Conference
Hyperwallet is heading to the stunning Skirball Cultural Centre in Los Angeles this October for Music Tectonics. Launched by the PR firm Rock Paper Scissors, this conference brings together technology entrepreneurs, digital service providers, publishers, record labels, distributors, investors, and educators to build relationships and discuss the crossroad of music, technology, and business. The Hyperwallet team is excited to participate in this inaugural event, providing attendees with valuable insights into the evolving world of royalty payouts.
WHAT: Music Tectonics
WHEN: October 28-29, 2019
WHERE: Skirball Cultural Center, Los Angeles, California
PANEL: How the Entertainment Industry Can Modernize Payments
Royalty payouts causing your business problems? Hyperwallet is here to help. Join Justin Butler, Hyperwallet's resident royalty expert, as he explains how digital payouts are helping royalty platforms modernize their global funds distribution processes. Sending royalties and paying freelance contractors in the music business has long been a difficult, expensive, and frustrating task. Rethinking this process has been the focus of Hyperwallet; join the discussion on Tuesday, October 29.
Panelists joining Justin include:
Lauren Apolito, SVP of Strategy and Business Development, HFA-Rumblefish
Rory Bernard, Chairman and CEO, Synchtank
Moderated by Dae Bogan, Founder and CEO of TuneRegistry
Take a moment and stop by the Hyperwallet booth to learn how our payout platform:
Simplifies and streamlines the distribution of royalty payments
Accelerates the receipt of funds to artists and freelancers
Allows artists to collect their royalties using their preferred payout method
The following Hyperwallet team members will be onsite during the conference to assist you with any questions you may have concerning our platform:
Wishing to learn more how Hyperwallet is helping solve the payout challenge in the music industry? Check out our Client Case Study with Lyric Financial and see how one of our clients was able to unlock local-currency payouts around the world.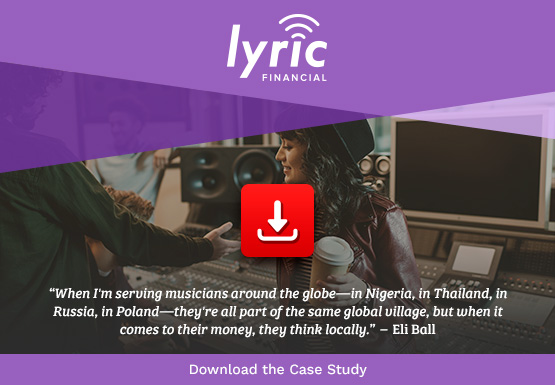 You can also download our ebook: Royalty Payments are Broken, to better understand the six biggest issues plaguing the royalty payment space today.
Hyperwallet Payout Platform