Introducing the New Hyperwallet Pay Portal UI
UPCOMING WEBINAR:
Learn more about the redesigned Pay Portal and how it can help your business succeed in the Earning Economy? Register for my upcoming webinar for a behind-the-scenes look.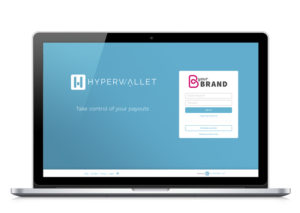 A new year often calls for a new look. From a fresh haircut to new wardrobe, nothing says you're ready to tackle the world quite like shaking things up. And while I'm not much for new 'dos, I'm a firm believer in fresh thinking, which is why I'm happy to announce the launch of our new and improved Hyperwallet Pay Portal user interface.
The main interface for our Portal solution (which is also an optional component in our Card solution), the Hyperwallet Pay Portal has been designed to provide our clients' payees with fast, convenient, and reliable access to their earnings. Now your sellers, drivers, artists, and distributors can do payday their way, thanks to a multitude of self-serve tools, an improved responsive design, and automated payment transfer methods.
Now your sellers, drivers, artists, and distributors can do payday their way with #Hyperwallet
Click To Tweet
From desktop…
…to tablet…
…the new Hyperwallet Pay Portal UI makes it easy for your payees' to access their earnings—wherever they are.
Here's a behind the scenes look at some of the changes and improvements within the Pay Portal interface.
Click a Letter to Explore New Features: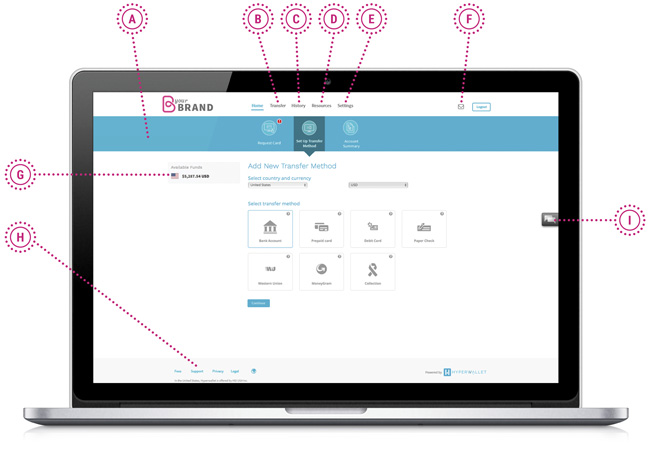 A. Action Bar: This dynamic bar auto-populates important items based on account usage. It provides fast and simple one-click access to key areas of your payees' Pay Portal account. A red indicator will appear whenever an item requires immediate attention.
B. Transfer: This is where your payees can quickly and easily move available funds from their Pay Portal using their preferred payout method.
C. History: Payees can track transactions—received payments, transferred funds, and fees charged—for as long as their Pay Portal account has been active.
D. Resources: Payees can click here to discover quick tips, important security information, and a handful of other resources that are designed to help improve their Pay Portal user experience.
E. Settings: This is where payees can update personal information, reset their password, and change a number of different Pay Portal preferences (e.g., language, time zone, etc.).
F. Notifications: To access Notifications, simply click on the envelope icon. Notifications keep your payees well-informed of special service announcements, as well as any new updates to their account or Pay Portal environment.
G. Available Funds: This area provides payees with a quick overview of the funds available for transfer.
H. Support: The Support section features answers to a number of frequently asked questions, as well as instructions on how payees can call, email, or chat with a multilingual customer service representative.
I. Chat: Chat support is available whenever the chat icon is visible within the Pay Portal.
Explore the Portal First-Hand
Want to see the new Pay Portal in action? One of our Solution Experts would be happy to take you for a spin. Simply request a demo to schedule a walkthrough and learn more.
Hyperwallet Payout Platform