Mic Check: Hyperwallet's Headed to Music Biz 2019
Mic check one, two, one, two..
Hyperwallet is headed to Music City USA (a.k.a. Nashville, Tennessee) this May for Music Biz 2019. Powered by the Music Business Association, Music Biz 2019 brings together global leaders in the commerce, content, and creative communities to build relationships and discuss the future of the music business. As with previous years, Hyperwallet will be attending this event in order to help rethink the royalty's payout industry.
WHAT: Music Biz 2019
WHEN: May 5th-8th 2019
WHERE: JW Marriott, Nashville, Tennessee
BOOTH: A11
Distributing royalties and paying freelance contractors in the music business has long been a difficult and frustrating task. Rethinking this process has been a focus of ours here at Hyperwallet for a handful of years, and now, thanks to our global payout platform, we're confident that we can help change the royalty distribution process for the better.
Stop by the Hyperwallet booth in Nashville to learn how our payout platform:
Simplifies and streamlines the royalty payout process
Improves artists and freelancers ability to receive their funds quickly
Offers artist the ability to collect their royalties using the payout method they prefer
The following Hyperwallet team members will be onsite during the conference to answer any questions you may have concerning the Hyperwallet platform:
Curious to see how Hyperwallet is helping solve payout problems in the music industry? Then check out our Client Case Study with Lyric Financial and see how they were able to unlock local-currency payouts around the world.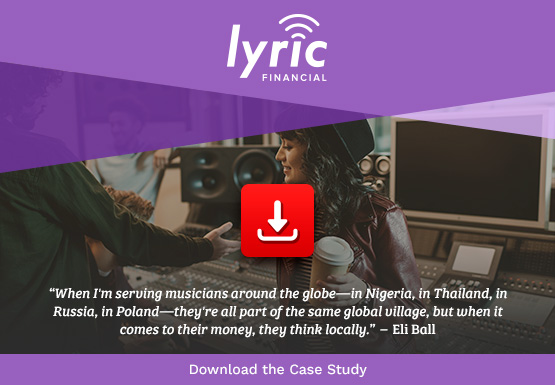 You can also download our ebook: Royalty Payments are Broken, to better understand the six biggest issues plaguing the royalty payment space today.
Hyperwallet Payout Platform