Where to Next? Introducing the 2018 Marketplace Expansion Index
TL;DR:
Where should your digital marketplace expand to next? The 2018 Marketplace Index offers unique insights concerning 36 expansion-worthy countries.
Over recent years, we've seen a number of marketplaces attempt to expand their businesses internationally—with mixed results. As they push to enter new markets, these companies often run into issues that they hadn't properly considered beforehand: things like local regulations, regional infrastructure, and market size. Marketplaces flounder, trapped in never-ending legal appeals or supply-side purgatory. They wonder why they'd messed with a good thing by trying to expand in the first place.
The reality is that many marketplaces embark upon international expansion without a clear understanding of the opportunities and challenges ahead. Perhaps they're following a competitor into a new country, or assume that cultural similarities will translate to a comparable economic and regulatory climate. But without taking a deeply analytical approach to growth, these expansion efforts amount to little more than an educated guess. Maybe more like a shot in the dark.
With that in mind, Hyperwallet has developed the 2018 Marketplace Expansion Index, a major effort to provide marketplaces with a data-driven analysis and ranking of countries against their viability for international expansion. With frequent revisions and full yearly updates, the Index compiles data from a range of sources to give you the best possible information about your targeted expansion markets.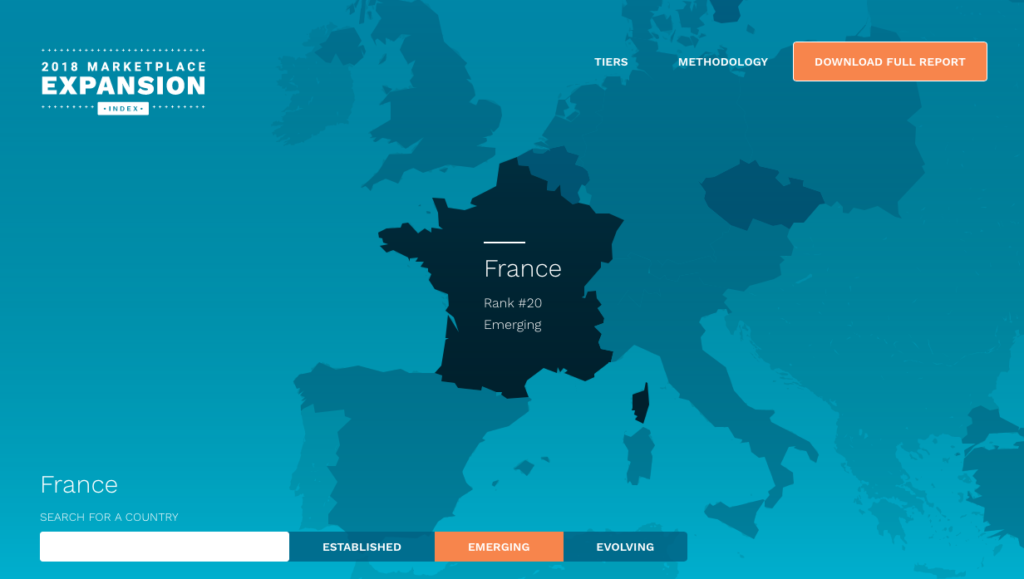 What's in the Index?
Parameters taken into account for the Index include Infrastructure (e.g., logistics performance, ease of doing business), Workforce (e.g., freelance employment market), Market Size (e.g., retail ecommerce growth), and Foreign Competition (e.g., dominant incumbents). Based on that analysis, we grouped the 36 chosen countries into three tiers: Established, Emerging, and Evolving.
Established: This tier includes countries with significant marketplace activity, rapidly growing platforms, and an ideal climate for expansion. Included are nations like China, the United States, and Germany.
Emerging: Countries is this tier have more barriers to entry, but still have many of the advantages of more developed markets. Norway, Belgium, Sweden are amongst the countries included here.
Evolving: These countries often overlooked for larger, more obvious markets, but strengths could offer unique opportunities if your strengths match their challenges. Think nations like Spain, Saudi Arabia, and Brazil.
The Marketplace Expansion Index is up and ready to go right now—feel free to check it out and see how your next planned expansion market stacks up. Or, if you'd prefer the nitty-gritty, you can download the full report here. Keep in mind that the Index isn't the final word on which countries you should be targeting for expansion. We recommend that companies combine the data with an internal analysis of their own strengths and weaknesses to determine the markets that best fit.
Don't be the next bad marketplace headline. Take an analytical approach and know before you grow.
---
Download Hyperwallet's full, 133-page 2018 Marketplace Expansion Index and check out our interactive expansion map here.
Hyperwallet Payout Platform